NEW2KNOX HOPS
Connect with your new city AND your new best friends!

Do you want to make new friends while you explore Knoxville? We're here to help!
While we adore sharing our favorite spots and keeping you up to date on all things Knoxville, New2Knox Hops are where we all get to put down the screens and be face-to-face – inside the very businesses we love to gush about.
Hops are the heart & soul of New2Knox!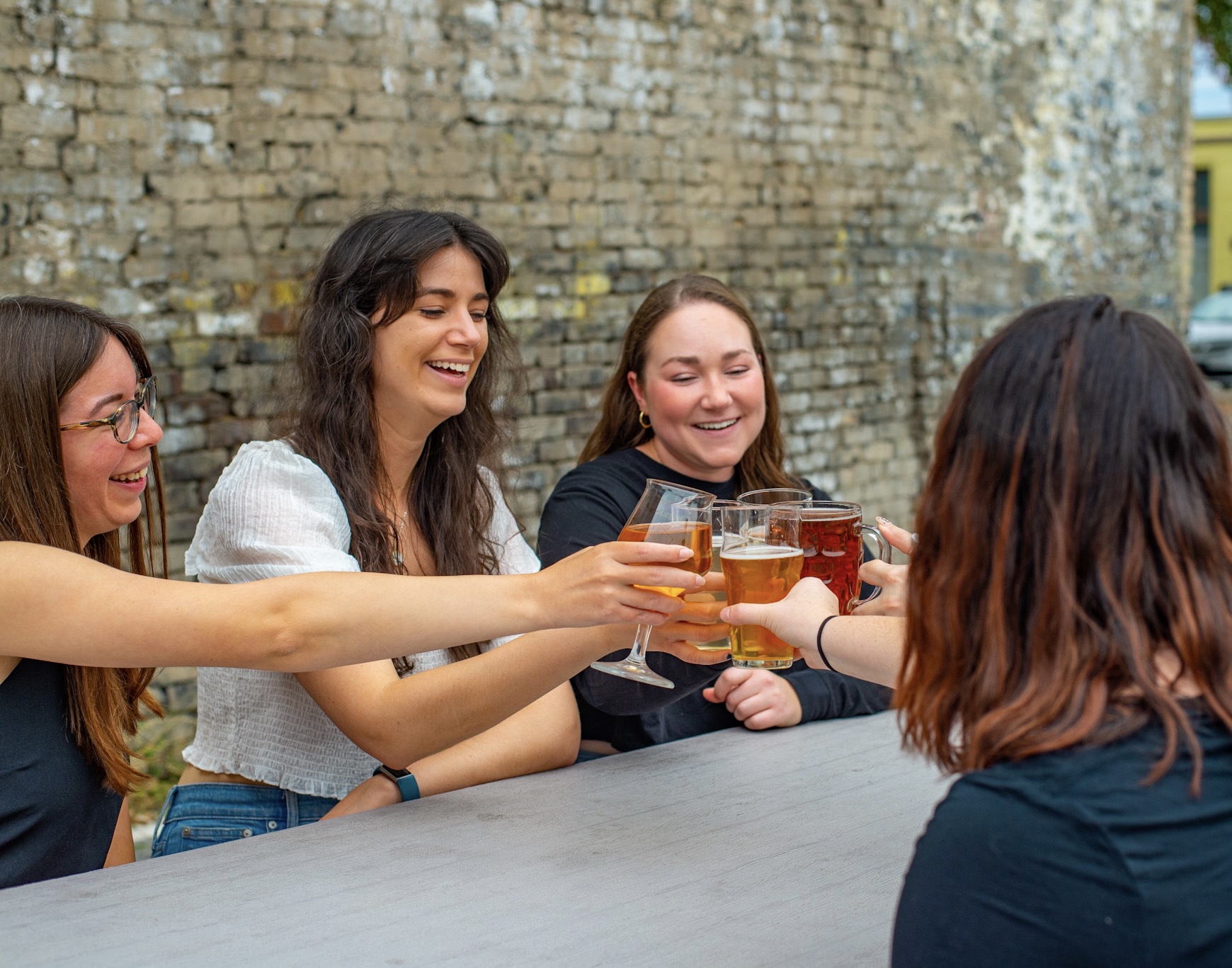 Pick a Hop to learn more!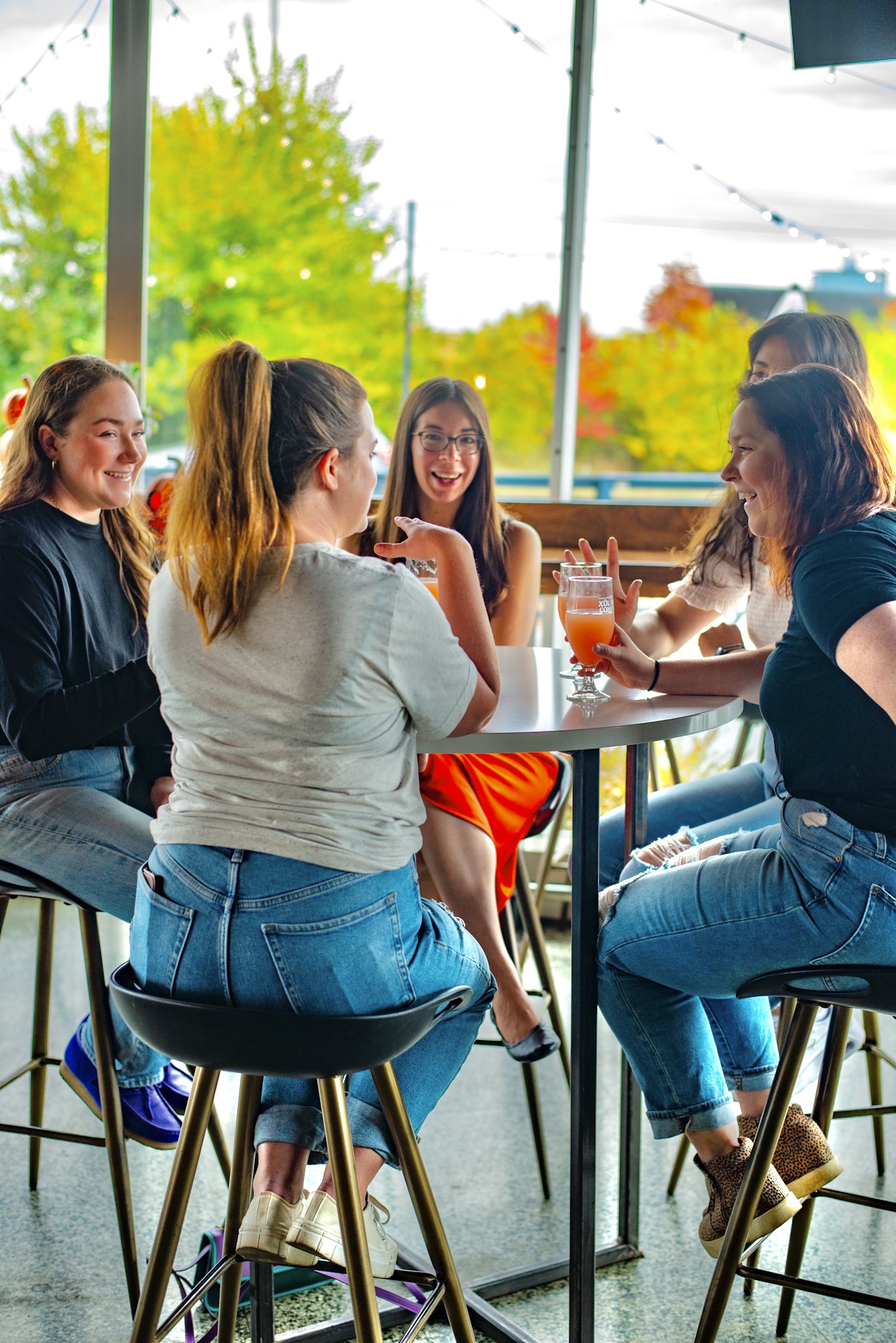 Have Hop Questions?
We Have hop Answers!
What are New2Knox Hops?
New2Knox Hops are designed to help you build real, actual friendships while getting a taste of local businesses! You get to explore your new city and build community as you hop around Knoxville for five weeks with the same 5-10 people. Your friendly Hop Host will help break the ice and be your personal friendship guru as you experience some of Knoxville's favorite businesses. And let's be real, sometimes hanging out with new people is just awkward – but by week five, you'll be old pals (and Knoxville experts to boot!).
Most Hops include sips & snacks at a new location each week, incentives to explore Knoxville, and plenty of intentional friendship-makin'. Your one-time fee covers all Hop experiences – but if you want more, you are always welcome to open up your own tab and keep livin' large!
While whatever "Hop" you choose will determine the kind of activities you do, making friends & exploring your city is always the goal!
Who are Hops for?
We offer all kinds of hops! Find a hop in your age range or hop into one labeled "EVERYONE." Our main demographic is women ages 21-40 (female friendships for the win!) so our hops do reflect that.
DO I NEED TO BE NEW TO KNOXVILE?
No way! These hops are designed to help people build community & get to know/fall in love with Knoxville. If you're in a season where you're looking for some new friends & a fresh perspective of your city, you're invited 😊
What if I'm not a female though?
Don't you worry your pretty little mind! We love female friendships, but we also just love friendship PERIOD 🙌
As you poke around the Hops, look for "Everyone, All Ages, All Genders" options. These are for aaall y'all! Singles, couples, men, women, and everyone in between – you're all invited 😊🎉 The only requirement is that you're 21 or over.
What's required?
Each hop happens one night a week for five weeks. We ask that you can commit to at least four of those five weeks so everyone has the best chance at friendship-makin'!
What's the refund policy?
We keep these hops intentionally small, which can make backing out a bit of a bummer for everyone!
REFUND POLICY:
If you cancel… 
30+ Days Before Night 1: 100% refund
14-30 Days Before Night 1: 50% refund
Less than 14 Days Before Night 1: No Refunds
When you sign up for a Hop, we suggest putting it in your calendar immediately so you're fully ready for all the fun.
What else do I get when I sign up?
Besides the five week experience itself (and hopefully a whole new group of local friends!), as a Hop Alumni, you get exclusive invites to a handful of other events throughout the year where you have a chance to meet even moooore new friends!
Alumni events have been known to include everything from trivia nights to boat parties to a classy Christmas soiree (ooh la la!).
Post Registration Details
New2Knox Hops are first come, first serve! Once you sign up for your Hop, make sure to put the dates in your calendar. We will follow up via email as your Hop gets closer with next steps and details on your group, leaders, and first experience.
"Highly recommend for anyone looking to make new friends in Knoxville. The N2K girls are great at providing facilitated activities to foster connection amongst people. I made some new friends and had a blast exploring new parts of Knoxville. They take all of the work out of meeting new people. All you have to do is show up and be your best self. I recommend New 2 Knox in the strongest terms! It was an excellent experience!"

Laura Porter
New2Knox Alumni
"I did the adventure group with New2Knox and would highly recommend it! It was so fun to do activities throughout Knoxville and meet some great people along the way. I'd highly recommend, especially if you're new to Knoxville or even if you've been here a bit but still haven't gotten connected."

Autumn Richards
New2Knox Alumni
"Highly recommend joining a N2K small group - especially if you are new in town. I am not "new" (6 years) and joined because I wanted to meet new people and it was a great experience for me; I can only imagine how much more enjoyable it would be for someone new in town that hasn't met anyone and has never been to any of the businesses"

Hannah Kress
New2Knox Alumni
"I did a New2Knox small group and it was such a fun experience! I met great people and tried out a lot of new places around town. The people who run New2Knox are fabulous, and I highly recommend checking them out whether you're new to Knoxville or not."

Kate Lewallen
New2Knox Alumni
"N2K has been so helpful in connecting me to fun things to do in Knoxville! Their small groups are a great way to connect to others and visit cool places in Knox. I know locals who follow their social media just to keep up with the fun they share in Knoxville!"

Emily Camacho
New2Knox Alumni
Have you heard? KUB Fiber has landed in Knoxville! Serving both businesses and residential so you can enjoy the fastest WiFi from your favorite coffee shop or the comfort of your home! Click below to see if it is available at your address yet! 
Mention NEW2KNOX to get $50 OFF of your first treatment or procedure & 10% OFF of retail products!
#knoxhops
Discover Knoxville with us! From monthly hops and happy hours to activities, fitness, and more!