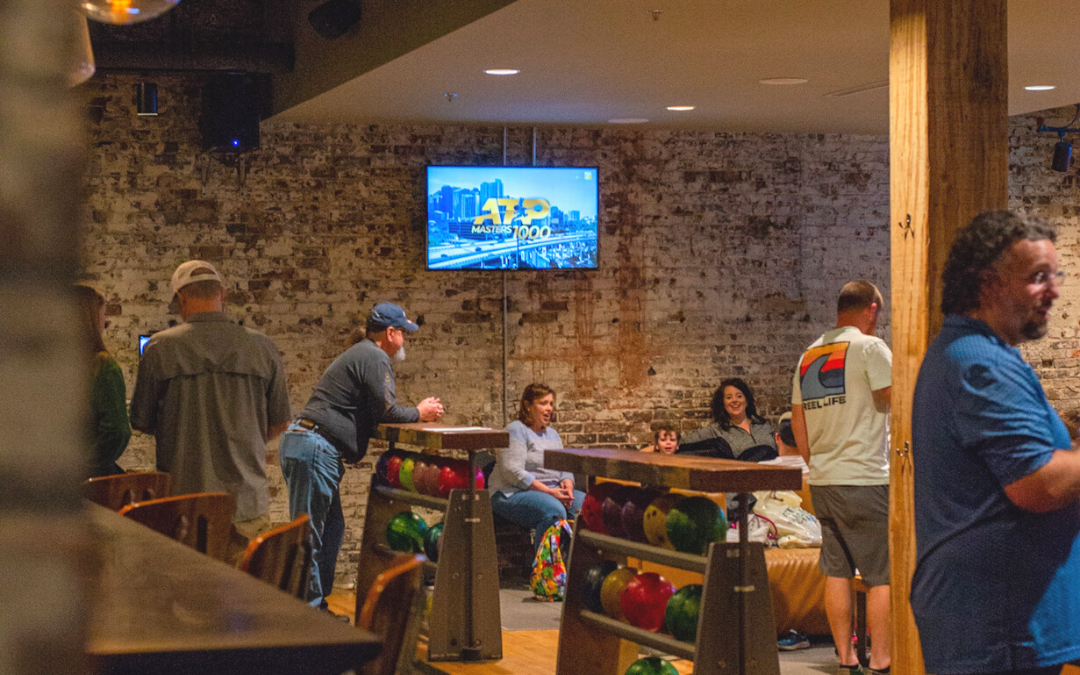 It's obvious Knoxville has plenty of street-level fun – and you know we love a bar in the sky – but did you know there are people living their best lives underground while you stroll above them on Gay Street? We know, we know – nothing cues red flag alerts like "come hang out with me in a basement." But we're here to share five legitimately cool basement bars to check out in downtown Knoxville. It's highly unlikely you'll get killed in them – and you may even have a lot of fun!😂
1.) Maple Hall Bowling
Maple Hall is definitely the trendiest bowling alley in Knoxville – but it may just be the trendiest basement as well. When you head inside, you're greeted by someone at street level – presumably there to make you feel a little less uncomfortable about boldly heading into a basement. However, once inside, you'll be greeted with gorgeous exposed brick walls, leather couches, a full bar, and some of the best fried pickles we've had to date. Oh, and definitely go bowling 😂

2.) Knox Box Karaoke
Once you're done bowling, you'll want to head to Knox Box Karaoke for the after-party. There's no greeting area or entry way to this basement bar – once you open the door, you head down the stairs to a night of shout-singing your favorite tunes in the company of the friendliest strangers. (We actually have all the details on the magic that is Knox Box Karaoke right here.)
3.) La Cueva del Chango
La Cueva del Chango (which translates to "The Monkey Cave") is the name of Soccer Taco's downstairs bar in Market Square. With the same menu and offerings, it's more a fun way to mix up your Soccer Taco experience than it is a bar to actively seek out. On the other hand, any bar named "The Monkey Cave" is worth checking out 😂
4.) The Vault
On the flip side of the basement bar vibe spectrum (didn't know that was a thing, did ya?😉), there's The Vault. As you walk into the entrance they share with Vida, you'll encounter a chandelier hanging over stairs that lead you to a basement bar just dripping with class. You can sip your cocktail in an actual bank vault or cozy up in one of their many dark and elegant nooks. Either way, this is unlike any basement experience you've had before.
5.) Mirage
Last but not least, Mirage is a vibey hookah bar tucked beneath Skybox Sports Bar. If you're not into hookah, fear not! They also have a full bar, Turkish coffee, and "actually really good" food. (This detailed food review comes from my husband😂) If you do enjoy smoking hookah, they have over thirty flavors to choose from. While you can totally just come and chill, events range from catching a football game on the television to catching a belly dancing show live!
Bar hopping is so last year. We can't wait to hear all about your basement hopping experiences instead!😉
Want to go from the lowest depths of downtown Knoxville to the highest? Click Here to Discover Knoxville's Rooftop Bars!