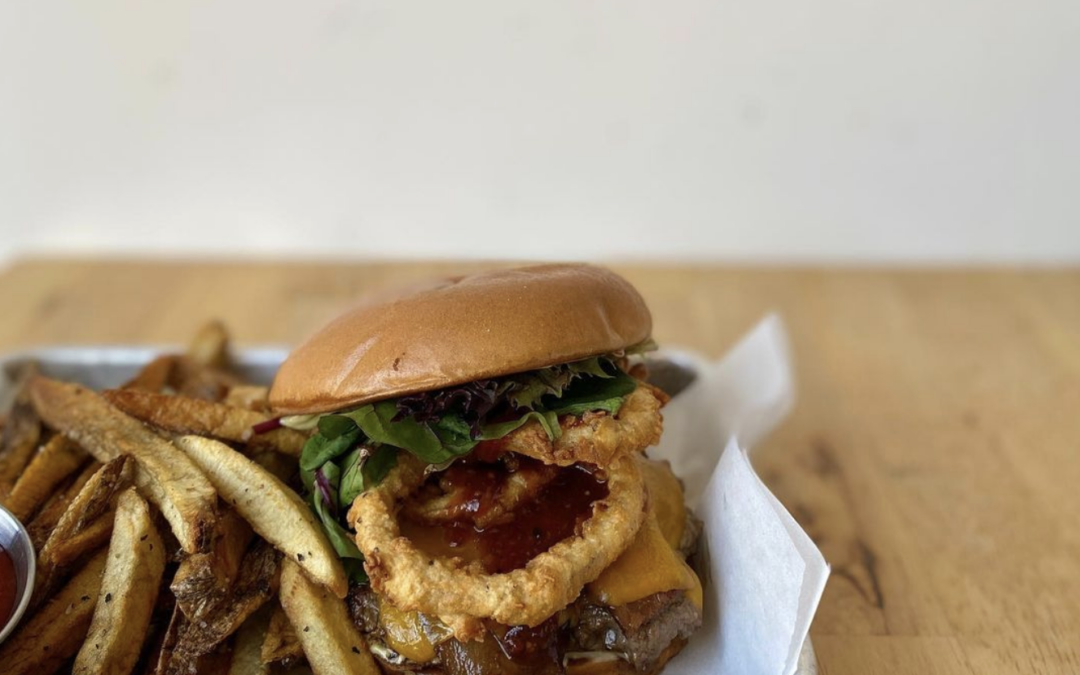 We are firmly of the opinion that there is no wrong time to eat a good burger, but we have to admit – they hit different in the summer. Whether you're dreaming of backyard cookouts or aesthetic patio hangs, most of us are bound to experience a craving over the next few months only a juicy burger can satisfy. Because of this, we won't make you wait even one second longer. Without further ado, (in no particular order because we are afraid of confrontation) the best burgers in Knoxville:
Stock & Barrel:
Stock & Barrel has made many a "best burger in Knoxville" list. In fact, this Market Square staple is consistently packed – and for good reason. Their aesthetic is on point, their bourbon selection extensive, and their burgers… *chefs kiss.* Try "The Bernie" or "The Elvis" (peanut butter and fried banana on a burger?? Color us intrigued.) for burgers with a twist – topped off, of course, with some duck fat fries.
Abridged Beer Co:
You'd think people would come far and wide to a brewery for its beer… and while Abridged definitely has delicious brews, their burger has come to shine all on its own. Definitely try their regular burger, but don't sleep on their rotating burger of the month either! Is that an excuse to go to Abridged at least once a month? We think yes 😉
Simpl:
Simpl's commitment to fresh, local ingredients means their menu is always changing. However, lucky for us, their burger tends to be a staple (and one of their most popular items!). Trust us when we say those fresh, local ingredients take your burger experience to the next level. Eating it on the patio with a view of Sevier Ave and an Alliance brew in hand doesn't hurt either…
Bit Burger:
Bit Burger looks innocent enough from the outside – just your normal strip mall restaurant… until you walk through the doors and encounter a rad retro gaming vibe and a menu full of specialty burgers. We're talking toppings on toppings on toppings and obviously you have to try them all.
Litton's Market & Restaurant:
Litton's is the definition of a Knoxville staple and locals still swear by this classic diner's burger. (And rightly so!) No burger list is complete without this hometown favorite – speaking of "hometown" you can get a crash course in Knoxville just by looking at the photos of early customers covering the walls.
Before we accidentally lie to you by picking more than five, we'll just throw out an "Honorable Mention" 😉 The smashburgers over at Smash inside Marble City Market are nothing short of legendary. Now, remember – we're not here to pick fights by naming a favorite. Nah, we'll leave that to you 😉 Just try these places out and then tag us to let us know who's the winner in your book!
Not feeling a burger today? Maybe this list of some of our favorite Asian restaurants will make your mouth water instead.