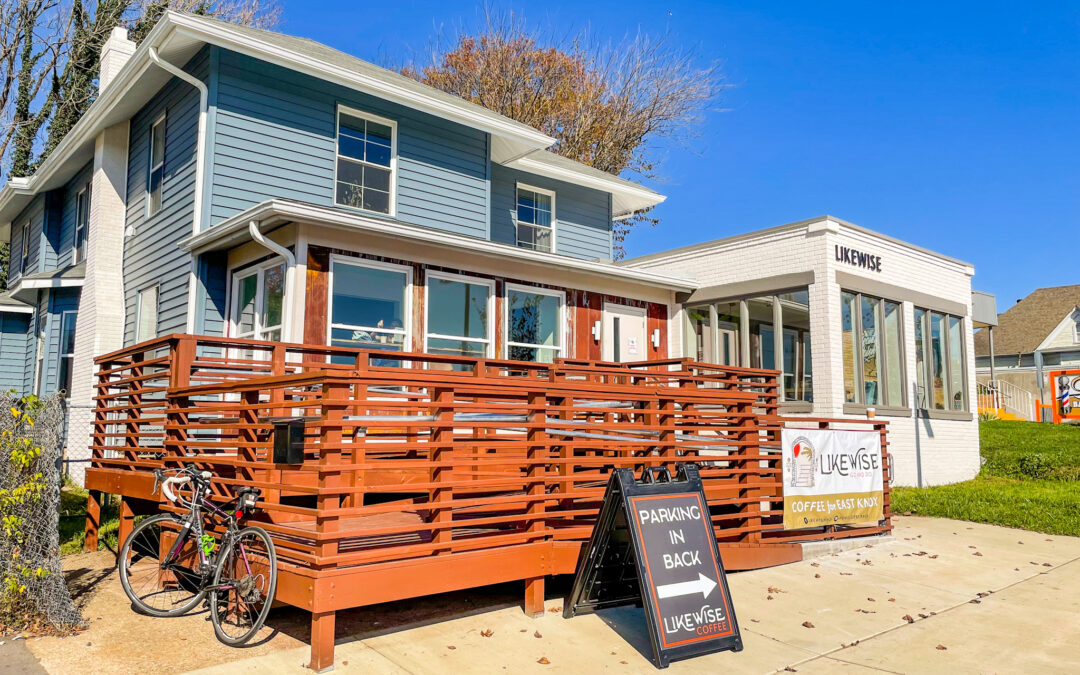 The doors are open to a special new coffeeshop on Magnolia Ave: Likewise Coffee. Only a mile or so from the downtown area, the owners Katie and Will Boggs hope to make this charming new spot a hub for community in East Knoxville. With an incredible mission, unique space, and coffee roasted on-site, Likewise Coffee has quickly become a new favorite spot for our caffeination (because let's be real – we're caffeinated more often than not), not to mention, some of the best coffee in Knoxville.
THEIR RAD MISSION:
While good vibes and delicious brews are more than enough to keep us coming back, Likewise goes above and beyond. Are you wondering where the name "Likewise" comes from? Maybe it sounds familiar – it's from the Bible story about the Good Samaritan. In the story, Jesus shares how love looks like selflessly connecting with and helping neighbors in need. ¨Go and do likewise" is the message to His followers. So true to their name, all (yes, all) of Likewise Coffee's profits will go towards the non-profit "Raising a Voice." Started in 2015 by the Boggs themselves, Raising a Voice works towards ending human trafficking in our area and around the globe by offering various forms of support and advocacy. So as you purchase your yummy vanilla latte or a warm herbal tea, you will also be supporting Raising a Voice´s amazing mission! (Does this make you a local hero? We think yes.)
THIER RAD SPACE:
If your heart's not already full of warm fuzzies, wait until you hear about their location. Likewise is located on Magnolia Ave about a mile east of downtown in a large renovated historic home that is over 100 years old. (In its long history, the house has been things like a restaurant and law office – to transform it into its current state, Katie and Will received the Facade Grant from the city of Knoxville.) As you walk in, you'll find the original stained glass double doors of the old home as well as beautiful original hardwood floors. The space has numerous rooms and nooks (our dream) where you can settle in with big beautiful windows and plenty of natural light. There is modern and cozy furniture throughout, a fireplace, and an inspiring mural of community in Knoxville from a local artist, Pam Simpson.
Outside you will find what we think is one of the best outdoor hangout spots in Knoxville! There are picnic tables, another colorful mural by local artist Michelle Cosse, and a large space which can host food trucks and events in the future.
THIER RAD COFFEE:
The coffee is roasted on site in one of the many rooms. (How cool is that?? Fingers crossed they give tours of how coffee roasting works one day!) They are offering a traditional coffee and tea menu along with seasonal drinks and pastries, including scrumptious breakfast biscuits. (We die for their breakfast sandwich on a biscuit.)
So, there you have it, Knoxville friends! Yummy seasonal lattes and breakfast sandwiches are waiting for you right down the street, along with a charming space where you can catch up with a friend or get some work done, all while basically changing the world. We plan on cozying up there a bunch this season and we highly recommend you go and do… Likewise 😉