5 Things to Do in May in Knoxville, Tennessee
We admit it – every time a new season comes around, we declare it our "favorite season in the Scruffy City." But in our defense, they're all really great seasons, okay?? 😂 As the temperatures climb up and the city wakes up, our happiness levels ramp right up as well. April was home to all things Dogwood blooms and flowery trails, but May certainly has her own springy thingys to bring[y] to the table. If you are a full Goldilocks like us and you'd like to make the most of this glorious moment between a lil too hot and a lil too cold, then keep reading for five things you absolutely must do this May in Knoxville, Tennessee!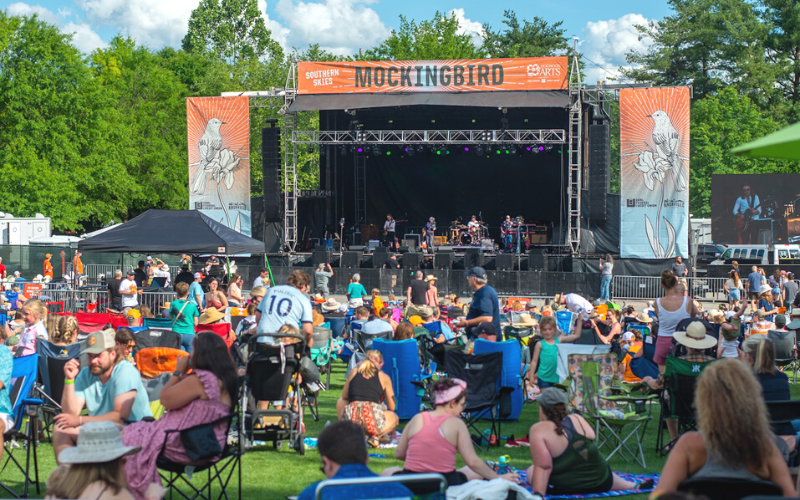 Nothing wakes up a city like a musical alarm clock! (I admit, musical alarm clocks often lead to dreaming I'm a pop star instead of actually waking me up, but I digress…) There are a bunch of scruffy, springy ways to catch a show this season. One of our favorites is the Concerts on the Square series. You can catch jazz every Tuesday at 7PM on the Market Square stage starting in May. Bring a lawn chair or snag a spot on a patio (Cafe 4 seasonal cocktails, anyone??) and enjoy all that jazzy magic like the true local you are!
Not into jazz? Later on in May is the Southern Skies Music Festival. This bad boy upped from one day to twooo days which we're assuming means it will be TWICE as delightful… and it already started out pretty stinkin' delightful last year 😂🙌 Nothing makes us love Knoxville more than enjoying a show with a local beer in hand and the Sunsphere in our peripherals 😍 Pro-Tip: Live music in Knoxville goodness can always be found right here!
The Market Square Farmers' Market starts up again this week! That would ooobviously be exciting enough information on its own, but she's alsooo celebrating her 20th birthday this year. (They grow up so fast 🥲) If you're not sure where you stand with Knoxville, we demaaaand you visit this market. She's had twenty years to perfect her delightfulness and it's all culminated into a wonderful frenzy of buskers and brunching and booths and bouquets – it's all just TOO BEAUTIFUL 😭💛 This Farmers' Market is ready to be a sunshine spot in your week, just trust us. But there are more markets where that came from! The Ole Sevier Market is back outside. Hey Bear Cafe is hosting markets in their big, beautiful backyard again. The Old City is hosting both daytime & nighttime markets now. The list goes on & yes, we do plan to be at every one 😍
3.) SPOOOORTS
You know what I don't love? Having to go to the bathroom to warm up my hands in the dryer because it's just that cold outside. You know what else I don't love? Getting third degree burns when my bum hits a bleacher under the scorching sun. You know what I DO love? Springtime sports! Nothin' makes us enjoy sports more than 68 degrees and partly cloudy sky 😂🙌 Thankfully, Knoxville has you covered. UT Baseball is hittin' home runs on the field aaand in our hearts. One Knoxville SC is a brand new minor league soccer team in town and being part of a new fan base is a jooooy. (Pro-Tip: It is alsoooo a joy to pretend you're Keeley Jones from Ted Lasso and speak in an English accent the whole time.)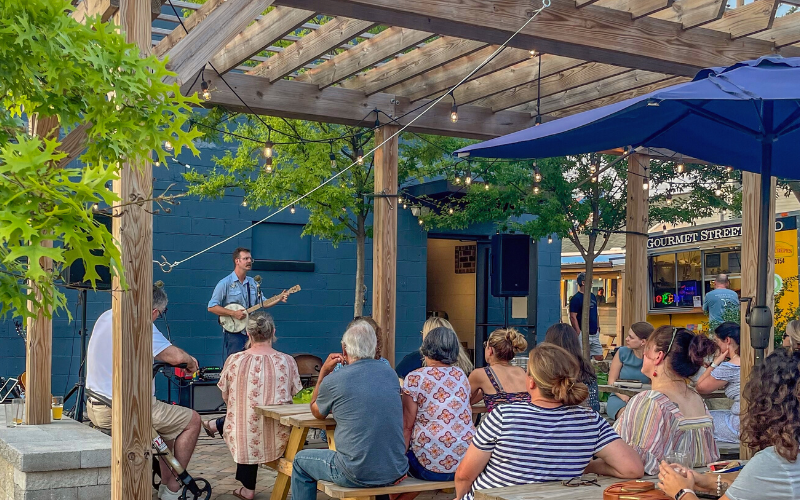 OBVIOUSLY WE WERE GOING TO SAY PATIOS, PEOPLE. We live and breeeeathe for patio season here at New2Knox! Sitting on a patio with a book or a buddy and bevvie and an umbrella… consider us smitten. Smitten & sittin', if you will 😉 Here are five of our favorites around town but just know there are pleeeenty more where that came from.
5.) HOLIDAAAAAYS
You MAY not think about MAY when it comes to holidays (holiMays? Too far?), but you MAY be surprised. Okay, we'll stop that now 😉 BUT May is the proud mama of rockin' celebrations like Cinco de Mayo, the Kentucky Derby (so many fun events happening around town for it this year!), Mother's Day (we love a brunch-centered holiday) and the main event for an outdoorsy, scruffy city like ours: Memorial Daaaay! Get out on the water & say adieu to spring and bonjour to summer as you wait for us to inevitably declare summer our favorite season in the Scruffy City 😉
Want to take advantage of the weather with your fave furry friend? DISCOVER 5 DOG FRIENDLY HIKES HERE.