5 Spots for Igloos in Knoxville, TN
Do remember a time not too long ago when the end of patio season meant we had to do the unimaaaginable? (Secretly hoping you just heard that last word in Angelica Hamilton's voice…) Yes, the end of patio seasons meant we had to eat and drink inside four walls. Ugh. It was a devastating turn of events each and every year. Now, however, these magical things called igloos pop up around patios all around Knoxville, and they let us be cozy, Christmasy, warm (and a little bougie) at our favorite bars and eateries all season long. Without further adoooo, we are here to give youuuu a cluuuue about igloooos in Knoxville, TN!
GET A CLUE ABOUT IGLOOS: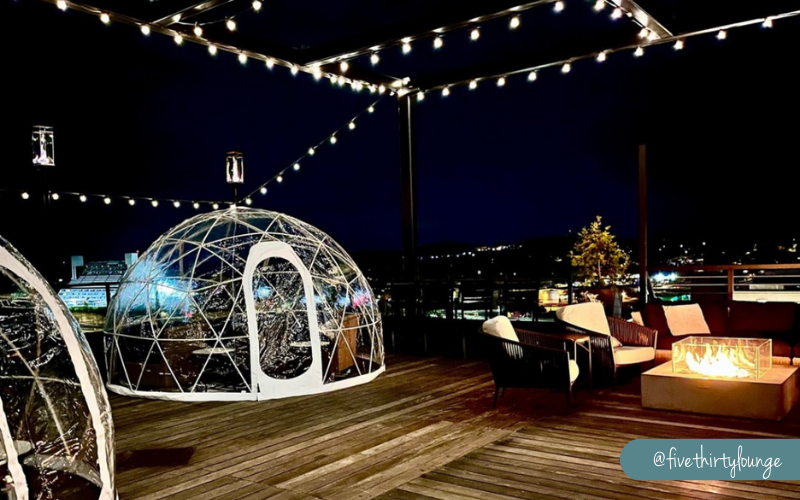 1.) FIVE THIRTY LOUNGE
We're starting out at the very top, my friends – literally. Five Thirty Lounge is the rooftop bar above the Hyatt Downtown. We love this bar in every single season. but the igloos are definitely the reason for this particular (chilly) season. Five Thirty pulls out all the stops to make it a memorable experience with pillows and throw blankets, a little fireplace, even some Christmas decor placed inside your lil dome oasis. People often gape at $200 spending minimum, but there's a way to crack the system. PRO-TIP: The igloos seat up to 8 people. Grab your 8 closest buddies (if you need some, just join a New2Knox Hop and we'll help you find 'em 😉) and each of you will only have to spend ~$25. That's a drink & a snack. Or you know what, just go on a total splurge date night because it's Christmas and it's magical and you're a GROWN UP. Either way, you'll want to make a reservation in advance. (PS. Check out other rooftop bars around Knoxville right here!)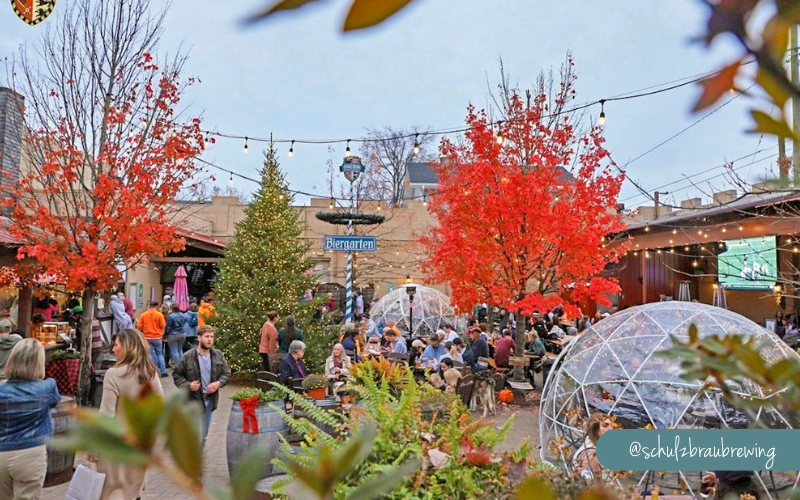 2.) SCHULZ BRAU BREWING CO
Schulz Brau in North Knox is a local holiday favorite for about a million reasons but three of those reasons are definitely the igloos. (Another reason is their Christkindlsmarkt German Christmas Market which we will literally never shut up about because it is the most precious.) These igloos are first come, first serve so grab your dunkel and start eyein' those bad boys. When one opens up, RUN, DON'T WALK, DON'T STOP & GET $200, JUST MAKE YOUR MOVE. Sorry for yelling – we just don't want you to miss your opportunity. There are no additional fees – just cozy igloos for you and your pals amongst Christmas cheer & delicious beer. (They also have some lovely fireplaces while you wait for you beer. Check out our other fave patios for fireside hangs here.)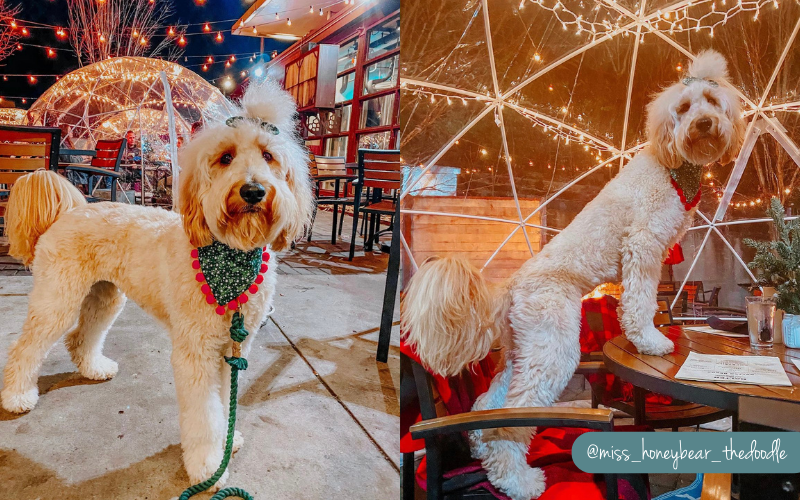 3.) BALTER BEERWORKS
We have it on good authority (okay, whoever happened to answer the phone when we called but she certainly sounded like she knew what she was talking about) that Balter Beerworks is bringing back their igloos within the week! Balter Beerworks is on the edge of downtown and while their beer is great, the fooood is what we keep coming back for. These igloos are also first come, first serve with no extra fees or requirements. We, however, do have a requirement – you absolutely must try the hot chicken salad. It is delicious. That is all.
4.) POINT B
Point B is a new restaurant tucked out in West Knoxville serving everything on boards – charcuterie style. They've got smaller igloos (they're calling them "domes") but it's still a cute way to enjoy sips & snacks on the patio while staying cozy and warm! You can reserve them or cross your fingers and hope one is available when you come – either way, there are no extra fees or requirements!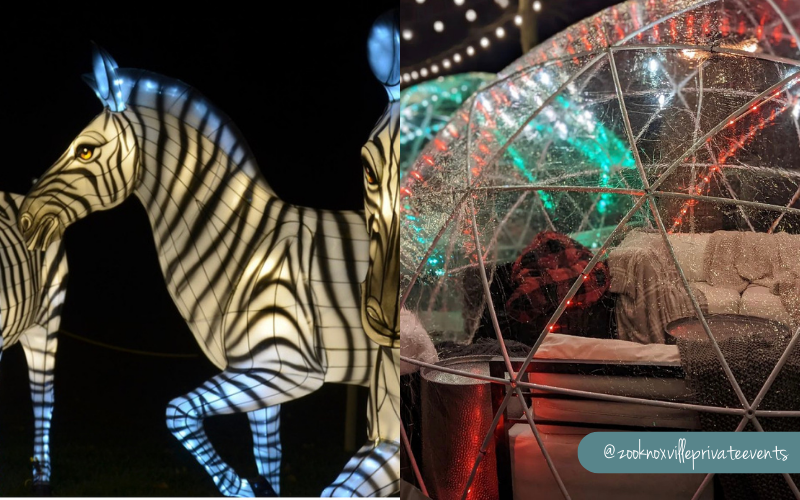 5.) The ZOOOOO
TWIST. Bet you didn't see this one coming. A bunch of local eateries & bars and then BAM: lions, tigers, and bears, oh my. But trust us on this one. Zoo Lights is happening again this year and the absolute bougiest & coziest way to experience it is via igloo. You can rent an igloo for $90-$100/person depending on the size of your party but HEAR US OUT. That cost covers your admission to Zoo Lights, three appetizers, two cocktails, and a private server for your own personal igloo. Basically the only thing it doesn't cover is a new pet penguin to live in the igloo with you. That about covers it, friends! If you find out about other spots with igloos around town definitely shoot us a DM on Instagram and tell us alllll about it. We hope you have a cozy, bougie, most wonderful time of the year. DISCOVER 6 COZIEST COFFEE SHOPS IN KNOXVILLE HERE.