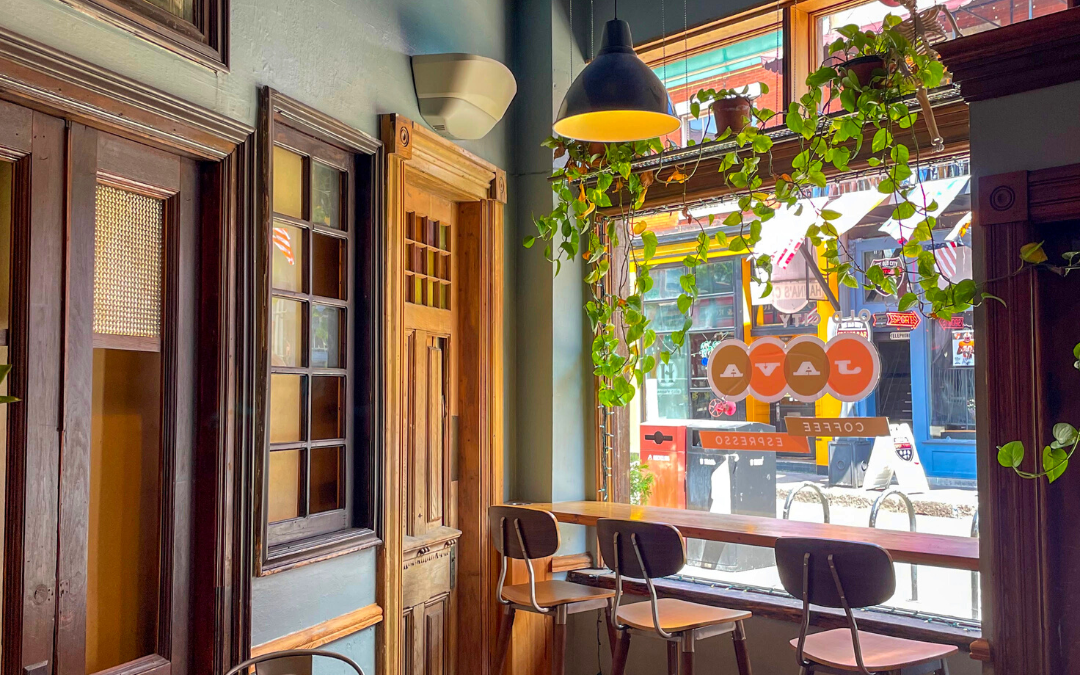 [UPDATED FOR 2023] When we moved to the Scruffy City, we immediately went on the hunt for the best coffee shops in Knoxville. However, when rain (and temps) started dropping down, we got more specific: coziest coffee shops in Knoxville. (Oh, and pumpkin spiced lattes. Also fleece lined leggings… and cider… and a cute beanie, of course.) Okay, so we went on the hunt for a handful of things, but *one* of those things was most definitely the coziest coffee shop corners. Well, we're  here to shorten the hunt for anyone wired like we are😂 Without further ado, we present: the very best coffee shops in Knoxville for cozy, rainy days.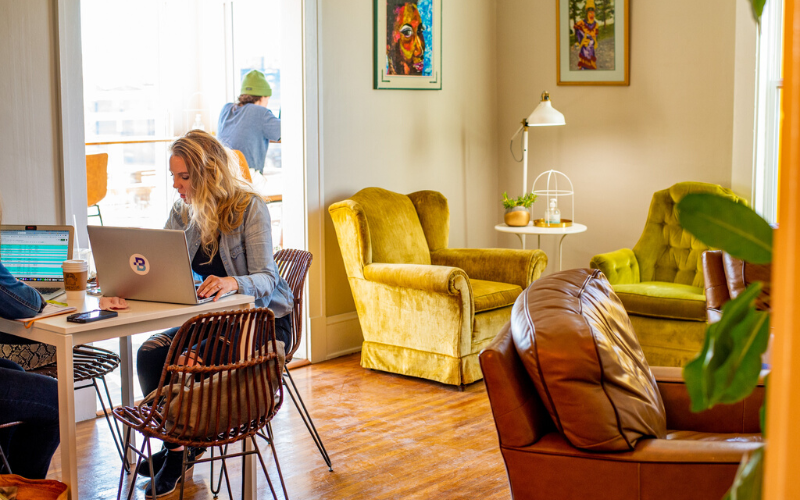 #1: LIKEWISE COFFEE
Likewise Coffee is chock full of cozy nooks. Heck, it's in a gorgeously renovated old house so the whole thing is basically a cozy nook. If you walk in and land the green armchair corner or the big leather chairs in front of the fireplace, just trust us – you've won the freakin' lottery. 10/10 recommend this place for all cozy days.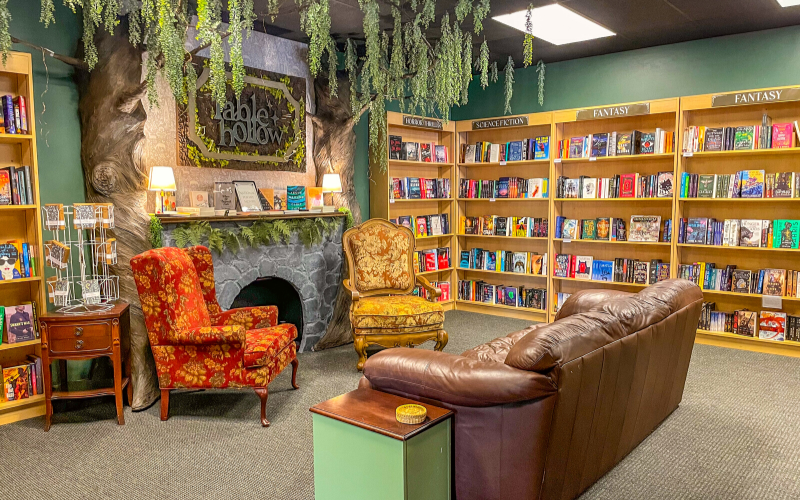 #2: FABLE HOLLOW COFFEE & BOOKSHOPPE
Fable Hollow may technically be located in the Fountain City neighborhood, but it sure feels like you're in an enchanted literary forest. Not only can you cuddle up with a coffee and a book, you can do so surrounded by other books while sinking into a brown leather couch in front of a magically cozy mantle. NEED WE SAY MORE? Well, speaking of more, there are also plenty of other nooks & corners around the store with whimsical touches for peak cozy coffee vibes.
#3: BACKROADS MARKET
Located just off Sutherland Ave, Backroads Market is a cozy gem in the Marble City neighborhood. Their space doubles as a perfectly curated home goods store so you know they have the good furniture. Between all the comfy couches, cozy corners, and inspirational wall decor, it's almost startling how easy it is to spend an entire day hiding out there.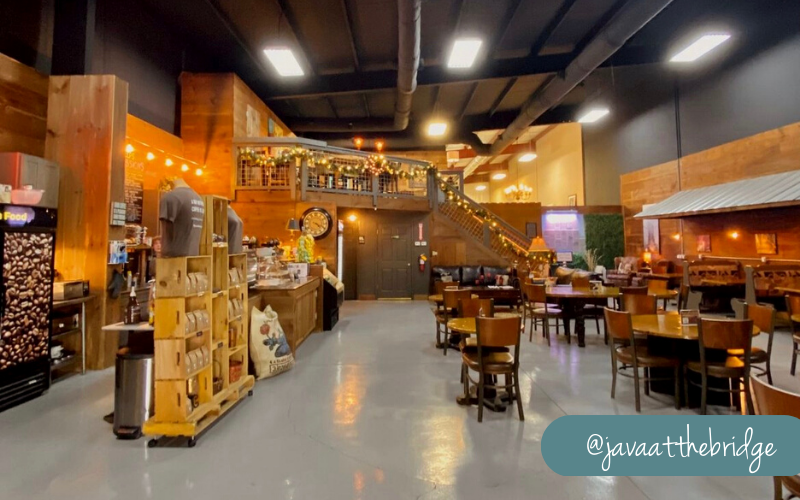 #4: THE BRIDGE COFFEE HOUSE
Seymour
This one is a bit of a drive but it had to make the list because it was so coooozy, people! Don't get me wrong, it's a huge space. But with couches to curl up in, a quiet loft space, booths for a lil more intimacy, and even a fireplace (a fireplace automatically gets you on our cozy list, no questions asked 😂)… The Bridge just feels like a cozy cabin escape from town, while still only being about 25 minutes away from Downtown Knoxville.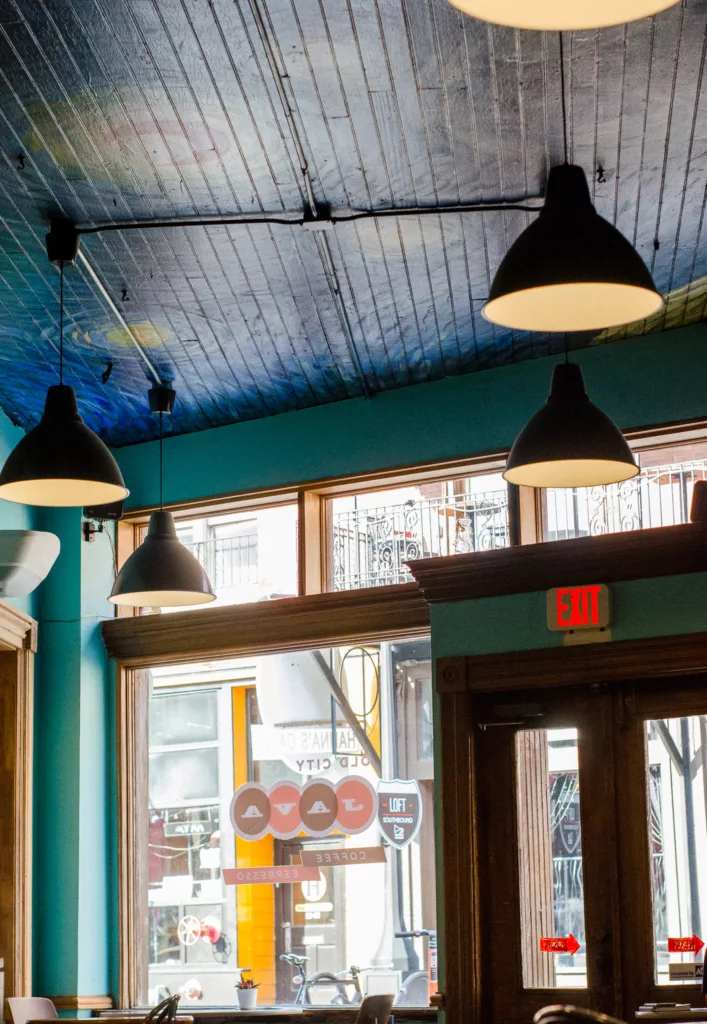 #5: OLD CITY JAVA
Downtown
Old City Java may not have cozy couches or a fireplace (Gasp! I know!), but it still makes us feel warm and cozy when we step inside. With wood floors and brick walls and painted ceilings, it's still easily one of our favorite spots to sit down with a book and pen for a cozy afternoon getting overly caffeinated. To the powers that be… if you were to add a fireplace… we truly may never leave 😂
We hope you have the coooziest time checking out these local coffee shop corners 😌 Need more ideas for a rainy day? DISCOVER RAINY DAY IDEAS HERE.