Fable Hollow Coffee & Bookshoppe: A Look Inside
Fable Hollow Coffee and Bookshoppe is ✨Magical✨

Is there anything more magical than coffee (okay, or tea) and a good book? We think not. Thankfully, Fable Hollow Coffee and Bookshoppe in Fountain City (North Knoxville) is on the same page (pun very much intended) and is here to provide all kinds of magic for everyone. This locally owned and operated fantasy themed bookstore is everything you could want in a bookstore – from the thoughtful and fun decorations that transport you to another world to the fantastic selection of coffee, tea, and books. I went by in early April to talk to the owners (Alissa and Casey – they're wonderful) to find out what inspired them to open a bookstore for their local community to enjoy, as well as what menu item from their coffee tea shop they would be if they could choose. Yes, I asked that. We don't shy away from the hard hitting questions here, people.
Tell us a little bit about you & your business! 
Alissa: So, we're a coffee shop and bookstore. We are fantasy themed, but we carry all genres of books. We're a frontlist and a little bit of a backlist bookstore, which means that we carry good books that are either just now coming out or some favorites that are still in print.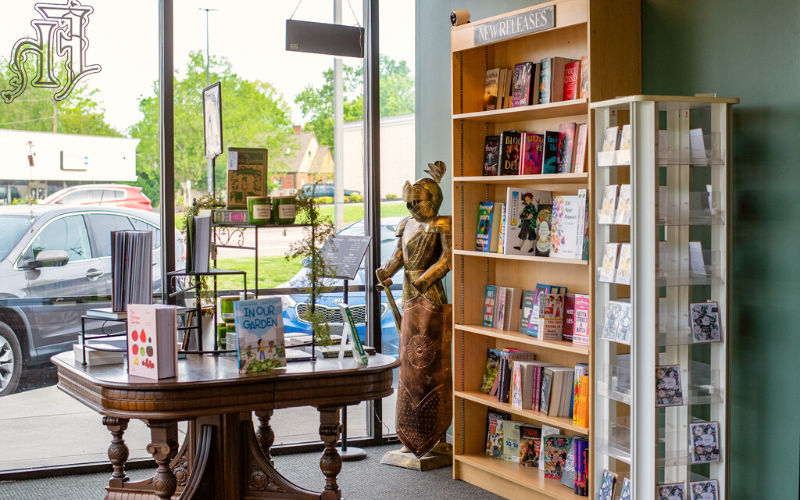 What made you want to open a bookstore?
Alissa: We both love stories. We're both writers too. I was in college as an English major; I switched to creative writing as soon as I could. I didn't want to be a teacher, but I wanted something with books. I grew up in a family that ran their own business, so I thought I would enjoy running a bookstore. I went down that trail when I was 19 or 20 and hit a dead-end when I was discouraged by a mentor figure. I then went into corporate life. When I was furloughed in 2020, I went back to the bookstore idea. Casey and I met around this time in 2020. I always wanted a coffee shop element to it, but I knew nothing about coffee and I'm more of a tea drinker. Casey had experience with running and opening a coffee shop for someone else. She didn't own it, but managed it. So, when we met and became friends, we found that our futures and skills aligned with what we wanted.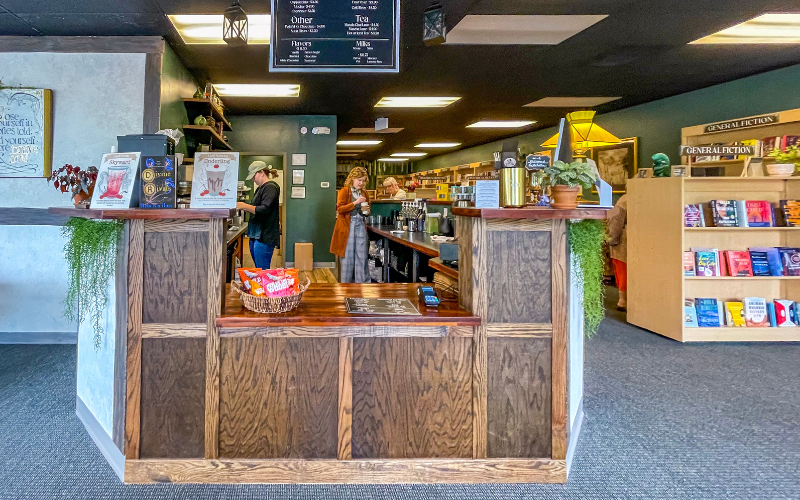 I love the serendipity there. 
Alissa: Yeah, we actually met in our last in-person meeting (pre-covid) of the writing group that my husband and I run. It really was a serendipitous meeting.
Are y'all from Knoxville?
Alissa: I am. I'm from Fountain City, which is a big part of the reason for our location. I always wanted to open a bookstore here because I felt like it was something that Fountain City was missing.
Casey: I'm from Sweetwater, and I always wanted to live in Knoxville. So, this was an opportunity to move here and make it my home. I found a house close to the store, so it really worked out!
I'm impressed by that determination. I've been following you on Instagram for a while, and I've seen the hiccups along the way. It came across that nothing was going to stop you from making this store a reality.
Casey: We feel that is the only way to get something done like this. Just knowing that no matter what, you're going to do it.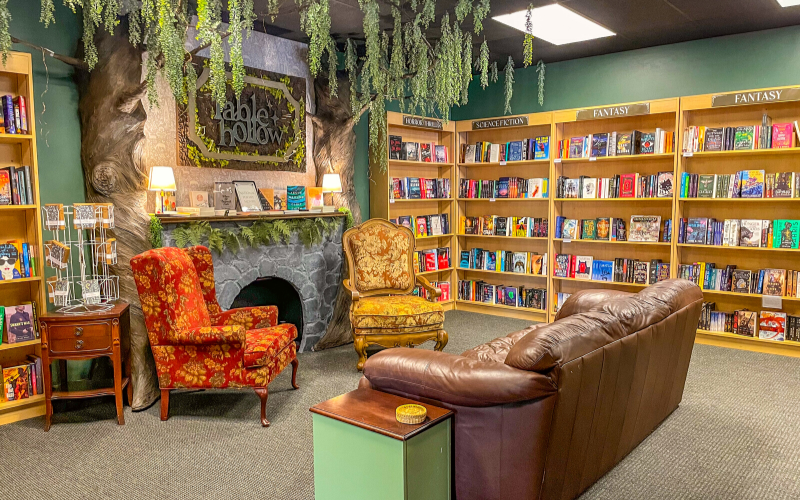 What sets you apart/makes you different from other businesses in this field?
We wanted to make sure that our store wasn't just a shop, but a place to enjoy the space. We wanted it to be very community based. So far, we haven't gotten the chance to do many activities with the community, but we want to start book clubs and reading times, things like that. Some have happened on their own. They didn't know each other and started a group chat and now come together here. We want anyone who feels like an outsider to be comfortable coming here.
What are your wildest hopes & dreams for this business?
We would like to gradually have more space to invite the community into. We want to be a safe space – the perfect medium between being a big corporate space like Barnes and Noble, but having enough rooms and space for communities to come in and enjoy.
What are you each personally excited about with your new business?
Casey: Our coffee shop will have different homemade syrups, so we get to play with flavors. We name our flavors and specials on books that we want to draw attention to, but sometimes having that done and ordering books at the same time can be a bit stressful. Being creative with the flavors and names is consistently fun though. For example, we'll have a special flavor for our grand opening (April 29th).
Alissa: We also make our own chai concentrate, which Alissa is more passionate about as she's not as big of a fan of coffee. Casey is also so creative and was able to make this place feel magical, which is probably my favorite part.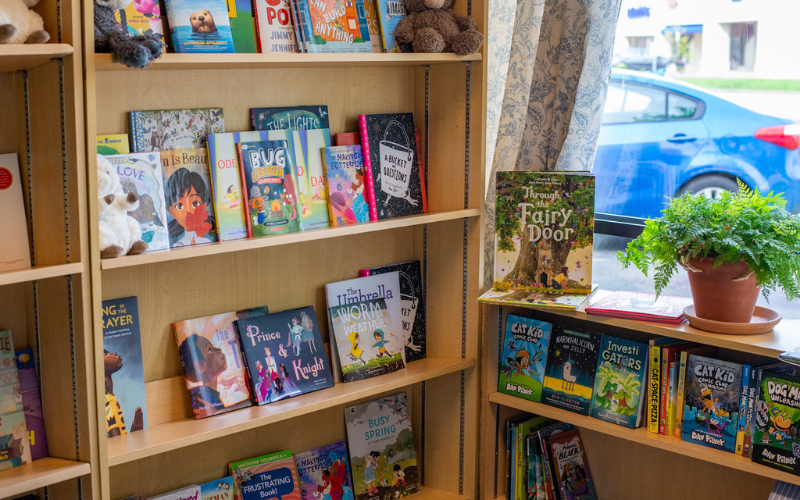 Why do you love your specific Knoxville neighborhood?
Alissa: There are aspects of Fountain City that feel like being in a small town, but it's still part of a big city. One thing that made me happy to be in Fountain City is that, being a lover of books, I always had to go downtown or out west for a bookstore. So, I knew there were people that are here that wanted a bookstore here. We're happy to be a family bookstore that provides that. Even having a coffee shop that is locally owned was something our community wanted. We're so happy to be able to provide both for Fountain City.
If you were a menu item in your coffee shop, which one would you be & why?
Alissa: We both actually have an answer to that! I would be an iced vanilla chai. Vanilla is one of my favorite scents and flavors, but it's sweet and the spices of the chai just create this warmth. It's what I drink often.
Casey: Mine's boring, but I'd probably be an Americano. You can have a bunch of it, which I do 😂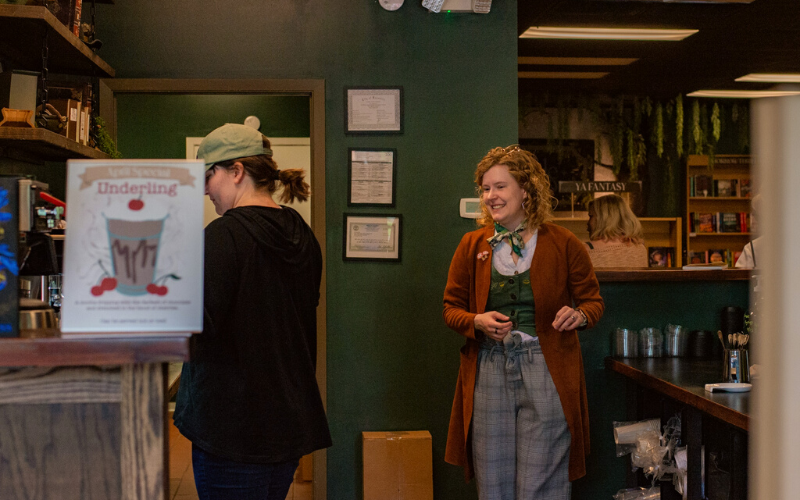 After chatting with Alissa and Casey, of course I had to peruse Fable Hollow. The fantasy theme provides a real vibe throughout the whole store (you honestly have to come see for yourself!). There are several comfortable nooks and corners to sit and skim a story before you commit, and plenty of books for all ages – the selection is curated, but still very broad in appeal! (I ended up getting Acting Class by Nick Drnasso from the graphic novel selection. It was recommended by a friend and has been a great read!) As I was grabbing a coffee on my way out the door, a group was  gathering at a table near the front of the store to hang out. It perfectly reflected what Alissa and Casey dreamed of creating for this Knoxville community. As an English teacher, there's a special place in my heart for bookstores, and Fable Hollow would have had me content for hours as a kid. Come experience the magic for yourself at their Grand Opening on Saturday, April 29th!