We can all agree that food trucks rule, so it comes as no surprise that Knoxville went from zero food truck parks to five (yes, five) in just a matter of a few years. Are we mad about this? We are not. (And since you're here reading this, we're just going to go ahead and assume you're not mad about it either.) Without further ado, here are five food truck parks to check out around Knoxville!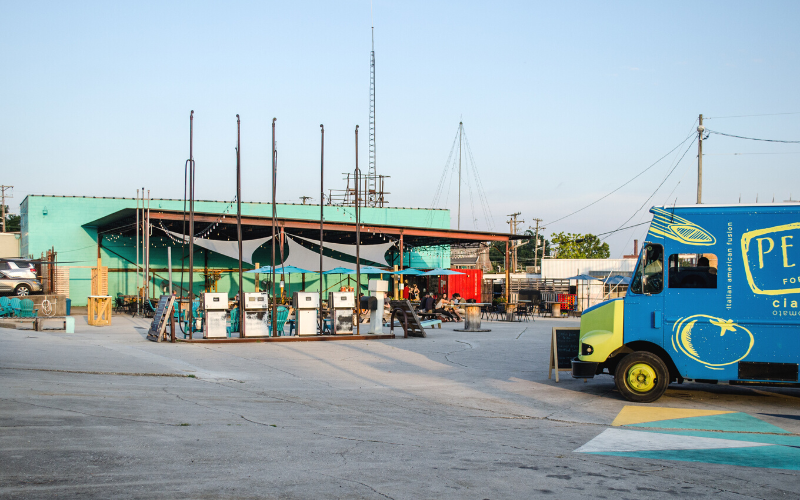 Central Filling Station:
Central Filling Station was the first food truck park to hit the local Knoxville scene and they did so with a bang. Located in one of our already favorite areas of town, they just went ahead and smacked the neighborhood into the freaking next level.
Central Filling Station has a covering, heaters, even some cozy fire pits which allow them to stay open pretty consistently no matter the weather. (Even if food trucks don't want to brave the elements, the trendy storage-container-turned-bar remains!) We can't decide if our favorite part is all the teal decor (hello, #onbrand🤩), the picturesque old gas pumps, or the fun events happening every week (like live music and trivia!).
What we do know is Knoxville summers aren't quite complete without a few evenings spent at the North Knox food truck. Keep up with their daily food truck schedule and calendar of events here.

SouthSide Garage
Neighborhood: South Knoxville
SouthSide Garage was a perfect addition to the laidback, outdoorsy vibes of Old Sevier. Everything about them screams SoKno – from their big garage doors to a backyard that makes you feel like you're hanging at your neighbor's house to a fully dog-friendly atmosphere.
While SouthSide usually doesn't sport quite as many food trucks as the first spot on this list, you can always count on their resident food truck (right now it's Dia De Foods *drool*) and a full bar complete with wine, craft cocktails, and local beer. Come hang for a Trivia Tuesday or one of their legendary "MASHUP" events where food trucks collab on menu items and we all get to benefit from it 🤩

Creekside
Neighborhood: Karns
This food truck park was originally described to us "a corner of the Food City parking lot." And that, friends, is an egregious mishandling of the information 😂 They've transformed this corner of the shopping center into a full Tennessee patio oasis with a line of food trucks, a big ole bar, large TVs, and plenty of seating for eating & lounging all brought together by the magic ingredient: string lights, baby! Creekside is LOVELY. Mosey on over to Karns this summer and enjoooooy.