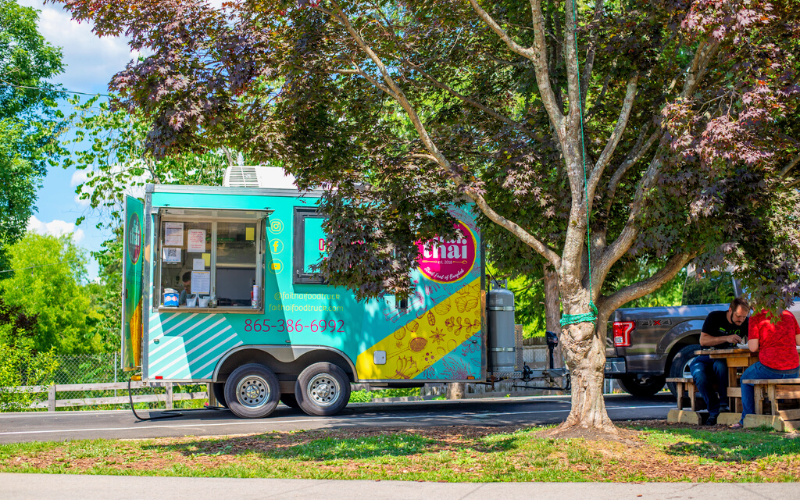 I assume we can can all agree that food trucks rule – so it's been a hair of a bummer to see some of our faves not reopen in Knoxville this summer. But are we half-glass-empty people?? No, Knoxville, we are not! (And since you're here reading this, we're just going to go ahead and assume you're a pretty fun half-glass-full positive person too. We're also going to assume you're adorable and kinda funny. Did we nail it? I think we nailed it 😉) So without further ado, here are some food truck parks in Knoxville we looove who are still kickin' and livin' large!

SouthSide Garage
Neighborhood: South Knoxville
SouthSide Garage was a perfect addition to the laidback, outdoorsy vibes of Old Sevier. Everything about them screams SoKno – from their big garage doors to a backyard that makes you feel like you're hanging at your neighbor's house to a fully dog-friendly atmosphere.
While SouthSide usually doesn't sport quite as many food trucks as the first spot on this list, you can always count on their resident food truck (right now it's Dia De Foods *drool*) and a full bar complete with wine, craft cocktails, and local beer. Come hang for a Trivia Tuesday or a bocce league or one of their legendary "MASHUP" events where food trucks collab on menu items and we all get to benefit from it 🤩

Creekside
Neighborhood: Karns
This food truck park was originally described to us "a corner of the Food City parking lot." And that, friends, is an egregious mishandling of the information 😂 They've transformed this corner of the shopping center into a full Tennessee patio oasis with a line of food trucks, a big ole bar, large TVs, and plenty of seating for eating & lounging all brought together by the magic ingredient: string lights, baby! Creekside is LOVELY. Mosey on over to Karns this summer and enjoooooy.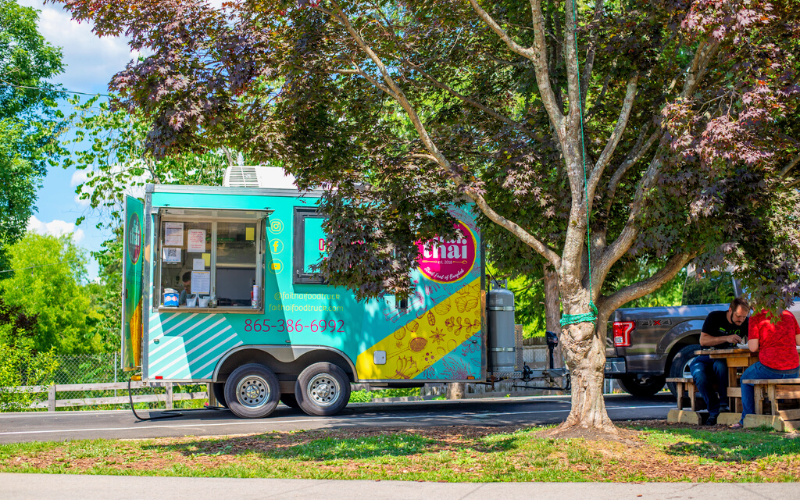 Hey Bear Cafe
Neighborhood: Cedar Bluff
You may think of Hey Bear Cafe in West Knoxville as a boba tea spot… and you'd be right. But she's also FULL OF SURPRISES because Hey Bear Cafe is also definitely a food truck park, babyyy. They host at least one, usually two, and sometimes even more food trucks every single day of the week – not to mention additional pop-ups most days as well. Their big, beautiful backyard is the perfect place to eat some local grub and sip on boba, no matter your age. Pro-Tip: They're really good about posting their food trucks, events, and live music schedule over on the 'gram so make sure to give them a follow!
HONORABLE MENTIONS:
These are decidedly not food truck parks, but here are a few spots to find a food truck anyway!
⭐️ Xul Beer Co. in Downtown North Knoxville hosts Abridged's Burger Truck most Fridays and Saturdays. Those smash burgers are soooo good, y'all. If they're not on-site, you can count on Pizza Time (Xul's resident pizza truck) to be open on the other side!
⭐️  Around the corner, Crafty Bastard has become home to Frussie's Deli food truck. If Frussie's isn't servin' up sandwiches, you can usually count on Kandilge Spicy Food to be slingin' deliiiicious Ghanaian cuisine. We're talkin' full plates overflowing with food, people. It's so good.
⭐️  Merchants of Beer in the Old City is another spot with a resident food truck. Their Pop Up Truck has a rotating menu but she's currently home to some of the best barbecue in Knoxville: Oakwood BBQ (*drooooool*)
Cheers to glasses half-full (or, you know, fully full) of good brews as we share big plates of fresh food around long picnic tables under the glow of string-lights & head-lights from food trucks in Knoxville 💛