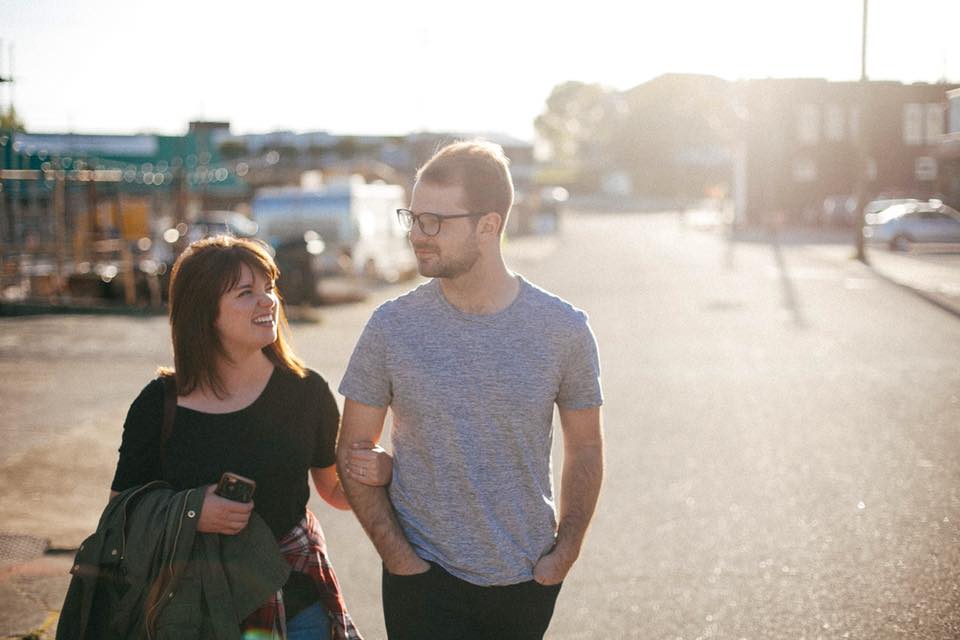 Whether you're looking for a special evening with your significant other, a treat yoself adventure with numero uno, or it's just high time for a girls night out: here are a few omg-it's-been-a-year-since-I've-gone-out-and-my-social-anxiety-is-kicking -in-so-I-can't-decide-what-to-do date night ideas to enjoy in good ole Knoxville, TN.
1.) SCOOTER TO SOKNO
Have you seen the Link scooters downtown? (If you're worried about scooties – "scooter cooties" – so were we. Thankfully, Link was one step ahead! Hop on any scooter sporting a green light on the handlebars. Once you've ended your ride, the light will turn red and won't become green again until it's been sanitized by a Link staff member.)
Pick up your green-lit scooter, travel over the Gay St. bridge (stop for a photo opp, obviously), and head into SoKno.
Order a pie at South Coast Pizza and enjoy that sucker at Suttrees Landing Park. Feel free to impress your date by scootering while balancing an entire pizza… however, the park is also close enough to walk 😉

2.) TAKE TO THE SEAS
We were absolutely floored to find out you can book lunch or dinner on the Star of Knoxville riverboat any ole time. Book the whole shebang to experience a meal and entertainment – or simply sip your own two buck chuck while enjoying the Tennessee River views from the deck! Either way, the entire experience lasts about two hours, avoiding any need for "three hour tour" fears 😂
3.) (KINDA SORTA) GETAWAY
A trip to Europe this year may still be a bit of a stretch, but East Tennessee ain't half bad! Have you explored our sweet neighbor to the south? Enjoy mountain views (anything to avoid looking longingly at the airport…) as you drive towards Maryville. Take a stroll through their historic downtown. Grab a drink from Diamondjack Wine Bar before enjoying dinner on the gorgeous patio of RT Lodge, tucked in a forest in the back of Maryville College's campus. Voila! Date night.
(Already checked out Maryville? Explore Sevierville or Townsend instead!)
4.) OPT OUTSIDE
Sorry but there was no way we could pick just one outdoor activity. This is East Tennessee, after all. Pick any of the following:
A.) Spend the day hiking through Ijams and reward yourself by jumping in Meads Quarry! B.) Pack a picnic and hike up House Mountain to experience the tallest peak in Knox County. C.) Check out Sharp's Ridge followed by some Señor Taco takeout. D.) Throw a couple rounds of disc golf or get in a game of sand volleyball at Victor Ashe Park!
(Maybe we should have named this "10 Date Night Ideas in Knoxville? Next time😂)

5.) ROOFTOP HOP
Mix date night up and go out on a weeknight to experience the gorgeous views and delish drinks at Downtown Knoxville's rooftop bars – but with a fraction of the wait time. Rank them on views, vibes, and quality of drinks – then let us know who wins!
6.) WE VOLUNTEER [LANDING] AS TRIBUTE
If downtown is a little crowded for your taste, pivot your date over to Volunteer Landing! Start off strong by renting a paddle board from Knoxville Adventure Collective. Afterward, stroll along the river, turn left onto the greenway, and soon you'll find yourself near World's Fair Park. At this point, we suggest photo opps on the colorful steps (near Cumberland Ave and 11th Ave) and in front of our beloved Sunsphere. Follow those photos with frisbee and cartwheels on the lawn!
7.) CAN WE GO BACK TO QUARANTINE?
Not over cozy date nights in? We get it! We also have Knoxville date night ideas for those I'm-done-with-people days 😉 Mix up movie marathon night by giving it a Knoxville theme. Grab some popcorn from Proper Popcorn and some crowlers of your fave local beer and then get cozy! You're embarking on no small adventure. See how many you can watch in one sitting:
1.) MOVIE WITH DOLLY PARTON: (We choose Steel Magnolias every time.) 2.) MOVIE BY QUENTIN TARANTINO: (Maybe Pulp Fiction? Live your dreams.) 3.) MOVIE WITH AN ACTOR FROM KNOXVILLE: (Hands down, The Lizzie McGuire Movie. Thanks for being born in Knoxville, Jake Thomas.) 4.) MOVIE FILMED IN KNOXVILLE: (The Last Movie Star has a scene in the "Knoxville Grand Hotel" which we very much wish existed.)
Too nice outside for movies? Call up the Poppin' Picnic Company and they'll put together the luxury backyard picnic of your actual dreams.
There are plenty more ideas where these came from, so keep an eye out for future lists of date night adventures. In the meantime, however you date night, we hope you have bunches of fun exploring your city and living local this weekend! Want to have a musical date night instead? Discover 7 Days of Live Music in Knoxville!