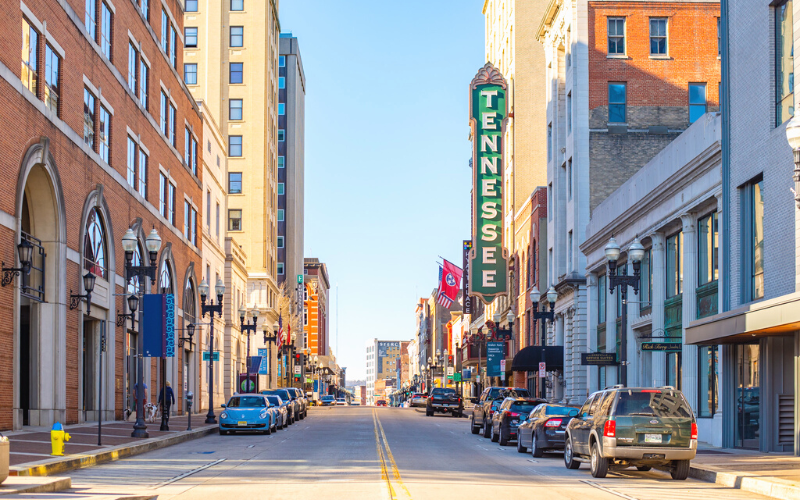 I think I can speak for the collective whole of humanity when I say – we love unlikely best friends. Suuuure, this is usually a duck and a German Shepherd, an elephant and a mouse, or a chihuahua and a chicken. But as of today, new unlikely BFFs have entered the scene 😂🙌
We at New2Knox are here to help you discover (or rediscover!) Knoxville. We're here to help you find your new favorite Happy Hour and your new best friend. We're here to share the good news about a rad new business or, you know, where to find The Office trivia. We are THRIIIILLED to do this 🤩 We are not, however, hard-hitting journalists. We're not here to share numbers or hours of research or general nitty gritty.
We're here to share Scruffy City sunshine. In fact, in this unlikely best friends pairing, we'd confidently say New2Knox is the duck. A delighted duck on her way to Happy Hour while quacking about it to all her friends. (Hey, friend! 😘)
But we have leaned on Knox News as a helpful resource for getting to know this city for YEARS now. They do share the numbers. They do share the research. They do share the nitty-gritty. They are feet-on-the-ground local journalists. You can email them. You can DM them. You can high five them on the street.
We figured it was about time to combine our love for Knoxville and officially partner up. Come to us for date night ideas and then we'll point you to Knox News for why dating can be so gosh darn hard in Knoxville. Come to us to feel out the vibes on the local quarries and then we'll point you to Knox News to learn what's on the bottom of the quarries 👀 Come to us for advice on your birthday dinner and then we'll point you to Knox News to find out who's serving the most expensive dish in town.
You get it. We're stoked to be partnering with our local journalists here in Knoxville and taking this unlikely best-friendship to the next level. We have some exciting things in the works with them that we'll be sharing over the course of this month STARTING WITHHHH a curated selection of Knox News articles on our home page we ✨specifically✨ think you cuties will enjoy! Click here & scroll down to see what's been curated for you at the moment; then come back every couple weeks to see what new articles have hit the scene. We also recently recorded a podcast with them answering some of y'aaaaall's questions about Downtown Knoxville. (You can listen to that here!)
We're also thriiiiilled to have their research when it comes to neighborhoods in Knoxville. The (🎉freeee🎉) Move2Knox Rental Guide will soon include links to not just top-rated apartments and moving companies – but all the Knox News nitty-gritty facts about each neighborhood in Knoxville as well.
We'll stop gushing now… but are you surprised? You know how much we love new friends 😉 Keep an eye out for more New2Knox Knox News News coming soon!🙌 (PS. Please say that last sentence out loud for the full impact 😂)
READ ABOUT THIS PARTNERSHIP FROM THEIR POINT OF VIEW RIGHT HERE 👀