7 (More) Date Nights in Knoxville
February may still be winter, but at least it's winter dressed in PINK, right?💕 It's winter, but at least it's winter that encourages flowers and chocolates and date nights. And thanks to our hero Leslie Knope, it's winter that celebrates girl power and female friendship (Galentines, babyyyy!). So basically, it's winter… but, hey, a little better! 😂 So in the spirit of love month, here are 7 (more) date night ideas to do in Knoxville, TN! (Curious about the first 7? Click here!)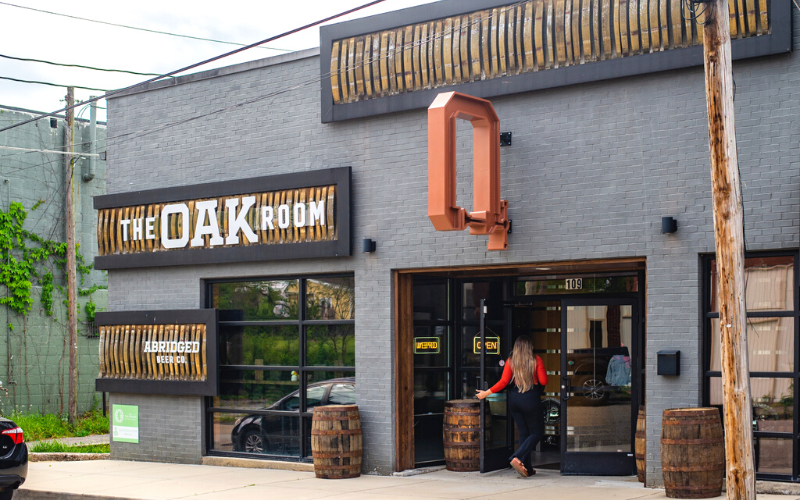 1.) YOU MAKE ME HAPPY [HOLLER]
Happy Holler is a cute lil neighborhood on Central Ave and subsequently the backdrop of a great date night. Sure, it's basically dinner and a movie… but trust us: our way is better. Kick off the night sharing a charcuterie board & flat bread at The Oak Room by Abridged. This cozy but elevated spot was quite literally made for date nights. Seriously – the owner, Jesse, loved the casual vibes of his original Abridged Brewing Co. but wanted to open something for when he and the missus wanted a nice night away from the kids. And, well, he totally nailed it. After your apps & drinks, walk around the corner to enjoy a show at Central Cinema!
2.) LOVE YOU, BREW, er, BOO
Anybody can hit up a brewery, but youuuu can impress your date by taking it to the next level with a Knox Brew Tour. (Next Level… haha… that's a brewery in Knoxville… ha.. ANYWAY.) The bus tours are super fun for birthdays and parties, but a Downtown Walking Tour is a perfect option for date night! You get to stroll through downtown Knoxville sipping beers and learning about the local beer scene from a (highly entertaining) expert. BONUS: When you're done, you're already conveniently downtown for continued festivities!
3.) JAZZ IT UP
We are of the opinion that jazz makes pretty much any experience just a hair fancier. If you're lookin' for fancy, we've found you the jazz. Babalu has jazz on Monday nights, Harvest on the 100 Block has jazz on Wednesday & Thursday evenings & Saturday mornings for jazz brunch. Speaking of brunch, Knox Farmacy has jazz brunch on Saturdays as well, and Water into Wine brings up the rear on Saturday evenings. If none of those tickle your fancy, check out Bistro at the Bijou who hosts live jazz pretty frequently as well. Live jazz followed by a concert next door at The Bijou? BIG win for date night. (Oh, you claaaassy! But you know what else is classy? Checking to verify that these spots are indeed hosting jazz before showing up with your date, just sayin' 😉)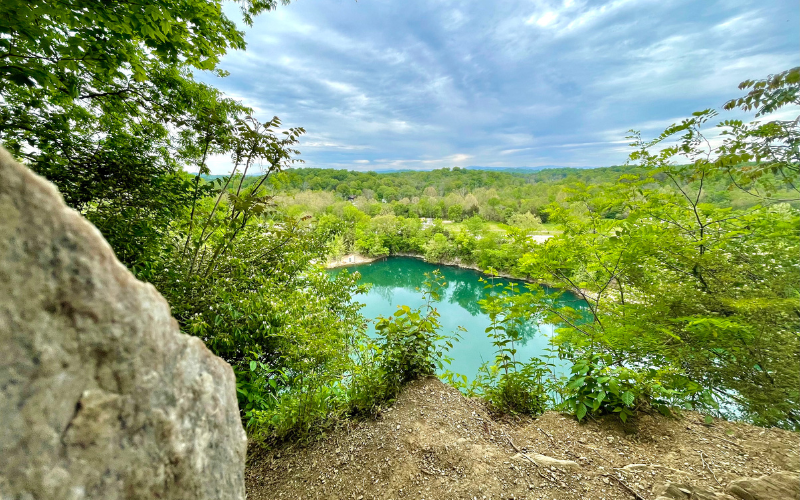 4.) HIKE IT UP
If you are absolutely not looking to class up your evening, you are in the right spot! This is the Scruffy City, after all. There are plenty of good trails to choose from around town (Fort Dickerson is another fun one!) but for this particular list, we're going to spotlight Ijams Nature Center for your classic hike & dip combo. The Meads Quarry Loop trail (Tharp's Trace is the official trail name) gives you a couple beautiful views of the quarry and is a nice hike without taking tooooo much time or leaving you tooooo sweaty. That being said, even if you do get sweaty, you can just jump right into the quarry afterward and wash it all away! It's totally free to hike and take a dip – or during summer months, you can pay a few bucks to rent a paddleboard or tube and enjoy even more time lounging together on the water. End the excursion with a beer from their beer garden or head over to Sevier Ave and enjoy a brew at Printshop or Hi-Wire. Voilà! Date night.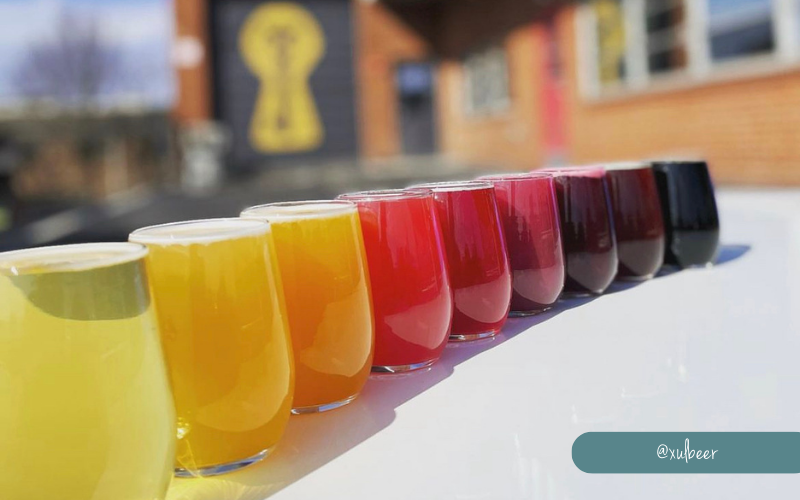 5.) TAKE FLIGHT (no, no, not that kind)
It's flu season babyyyy so this is only a good date idea if you're already smoochin' BUT tackling some flights together is such a fun way to mix up a standard drink date! Most local breweries have flight options or you can go crazy and enjoy an ice cream (WHAT. Yes.) flight at Sugar Queen Creamery in South Knoxville. Orrrrr you can mix it up even more with these local flight ideas ranging from sours to coffees to wines! Do you remember the olive theory from How I Met Your Mother? Sharing a flight is the perfect way to streamline that theory. You love dark beers & he loves lagers? Perfect. Now you know 😉
6.) SPILL THE TEA, BABYYY
If Dry January has eased into Damp February, the Tea Room at Addison's is the ✨perfect✨ place for a cozy, sober date. Start the date with an hour-long gong fu cha experience where you'll get to experience four to ten flash brews (equating to around one liter of tea) for you to drink during the ceremony (or take home with you because that ends up being a LOT of liquid, my friends 😂). After your Chinese tea ceremony, head to the window seat for a cozy game of chess for two. ADORABLE.
7.) NOT HERE TO PLAY GAMES
LOL JK YES WE ARE DEFINITELY HERE TO PLAY GAMES. If you want to play some games (not games with hearts, people), there are plenty of fun spots all over town with a whole hooost of games. Suttrees High Gravity Tavern is in Downtown Knoxville on Gay St. and connected at the hip is Harrogate's Lounge. They've got all the classics like pinball and skee ball (aaand do yourself a favor and try the ramen at Suttrees while you're at it). Down in South Knoxville, Hi-Wire Brewing Co. has got "Soccer Pool" and ping pong and even board game night on Mondays! Over in West Knoxville, Token Game Tavern even has it in the naaaame so you know they're serious. They've got new and vintage arcade games, more pinball, console games, truly everything. So snag a drink and a partner and start playin' gaaames, you crazy kids!
Hopefully it's obvious but events and concerts and UT games and such are always a super fun way to spend a night out in the Scruffy City. You can keep up with upcoming events weeee are personally super excited about right here. Now go have fun with your two loves (Knoxville and whoever it is you love) – and DM us if we missed your favorite local date night activity!