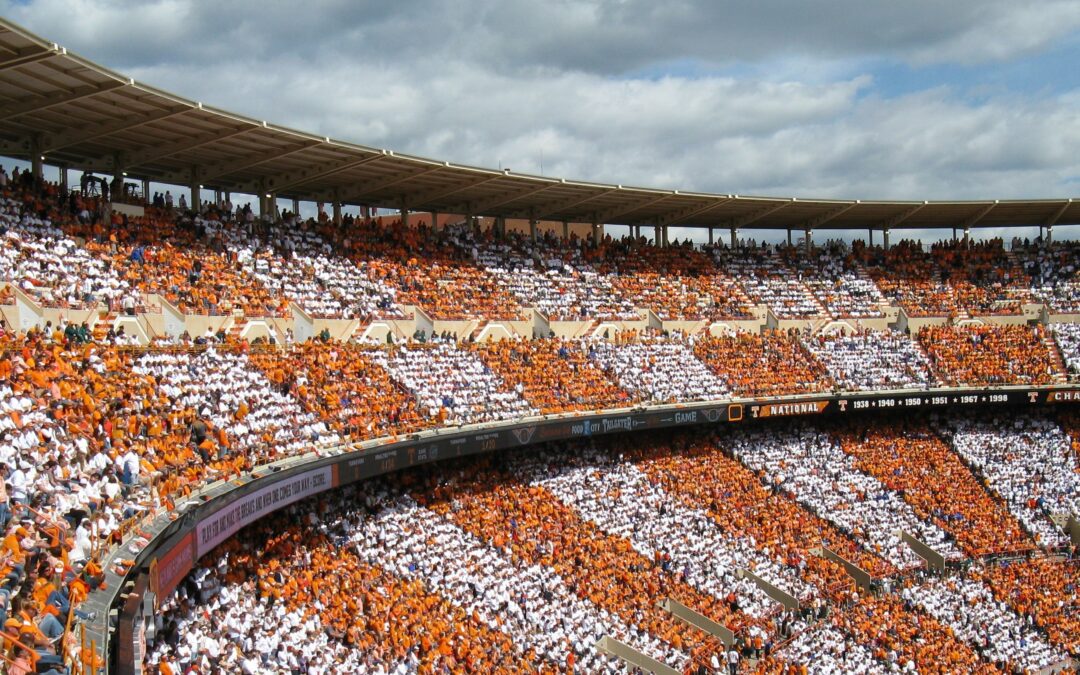 Looking for the best spots to watch a University of Tennessee football game in Knoxville? (Even if you're not the biggest fan of football?) We got you. If you live in Knoxville, you already know leaves aren't the only things turning orange when fall hits East Tennessee. No, everything from overalls to menu items get a bright orangey hue. Live here long enough (ie. live here during football season at all), and Vol football will impact your life somehow, we guarantee it. We may not give two hoots about football, but we do give two hoots about Knoxville – so if Knoxville loves her football, we're happy to play along. Whether you're a huge fan of football, you're a huge fan of your friends who want to watch football, or you're just a good sport who wants to experience something quintessentially Knoxville, here are 7 of the best spots to watch a University of Tennessee football game in Knoxville, Tennessee.
Best Spots to Watch a University of Tennessee Football Game:
#1. Neyland Stadium
This is obvious, right? There's nothing quite like experiencing the energy, traditions, and hometown pride of a game at Neyland. If you're new to Knoxville and just dipping your toes in, we first suggest learning when to say "woo!" during Rocky Top. Second, we suggest going to game against a small school no one cares about. Tickets will be cheaper and, since there is a higher chance of winning, fans will be happier. Win/win! (Pro-Tip: They actually don't seem to win that often. We suggest not bringing that up to the fans.)
#2. Merchants of Beer
Merchants of Beer does not hold back when it comes to football time in Tennessee. Mere TVs are not enough for this Old City establishment. No, the game is projected onto the entire gosh darn wall. Get your patio hangs, a selection of over 50 beers, and life size football all in one convenient spot.
#3. 35 North
This spot is technically a local food truck park, but don't let that fool you. The food trucks hang outside while inside boasts more of an elevated sports bar experience (this is Farragut after all). TVs are hung not just on every wall, but also encircle the entire 360 bar. We dare you to try and sit inside 35 North without having a television in your line of vision. Add in game day drink specials and you've got yourself a football watchin' experience even football non-enthusiasts can enjoy.
#4. Schulz Brau Brewing Co.
This German biergarten is a good spot to hang any day, so if your friends want to watch the game, we suggest pointing them here. You can enjoy one of our favorite patios (all the tables, benches and chairs were legitimately imported from Germany!) and a delish Hefeweizen while your buddies take in a game on the big screen. And yes, that sucker is big. When the whole biergarten erupts in cheers, you can't help but cheer along. Prost!
#5. Hi-Wire Knoxville
Hi-Wire makes football fans happy since they play the game on all their TVs and project it onto the big screen. It's also loud, so celebratory cheers are even more celebratory (and awkward woops-we're-losing-again silences are a little less awkwardly silent). However, Hi-Wire also makes non-football fans happy with plenty of other activities and, of course, a great tap wall available!
#6. The Maple Room
If you can convince your friends to watch the game here, you've truly beaten the system. Over sports bars? Maple Room is the opposite. The fans will be happy to watch the game on a large projector screen and you'll be happy to be in a highly classy atmosphere with great drinks, board games, and vibes for the afternoon. Still not feeling it? Ditch the game altogether and head downstairs for some bowling!