Knoxville Adventure Collective
When you walk through the doors of Knoxville Adventure Collective, there's a good chance you'll meet the goodest of good boys: Japhy. Japhy is not just the KAC shop dog. His wagging tail and sweet demeanor are sure to dispel any lingering fears of things like "exercise" or "being outdoorsy." (Just me? Well, okay then.)
If you meet Japhy, there's a good chance you'll also meet the owner of KAC – Jon. You know that phenomenon where dogs and their people give off the same energy? That's Japhy and Jon. They'll both welcome you in with their laidback positive vibes, get you set up, launch you off the dock, even hand you a beer when your adventure comes to a close. (Okay, Japhy may not do all of that but he's still the very best boy.)
Jon Terry only landed in Knoxville from North Carolina a couple years ago, but you'd never guess it by walking into KAC. In fact, there may not be another business in Knoxville who captures the Scruffy City's essence so completely.
That's a bold claim, so allow us to explain. Knoxville Adventure Collective is located right downtown, tucked on the far edge of Volunteer Landing. You can easily find your way there after a Babalu brunch, a K Brew coffee date, or a Knox Brew Hub hang. (As more "brunch people" than "outdoorsy people," this detail is important to us 😉)
However, once you meander down to the edge of Volunteer Landing, downtown feels like a lifetime away. East Tennessee is about to completely open up to you. Friend, Jon is about to. Hook. You. Up.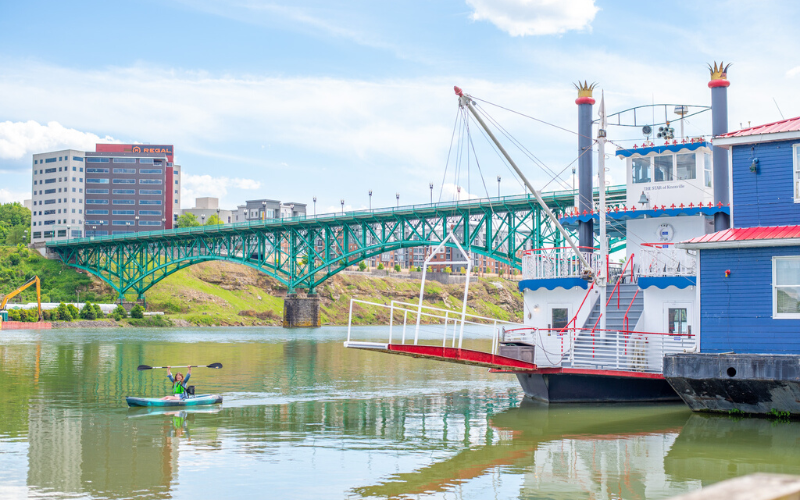 You can hop on a paddle board right then & there and enjoy downtown views from the river. If you're lookin' for a little more, the folks at KAC can drop you off at the Holston River launch for a longer adventure. Over the river life? They can set you up with a mountain bike and transport you to Baker Creek Preserve for a day in the forest playground. OR you can rent equipment all dang day and take your adventure vessels anywhere you want. AND THEN you can come back for a moonlit paddle adventure sponsored by Albright Brew Co.
Are you exhausted or exhilarated after reading that? If you're exhausted, we have good news: all adventures can end with a brew back at the KAC headquarters (you may even get to hang with Japhy again! No you're obsessed) all the way til 10pm.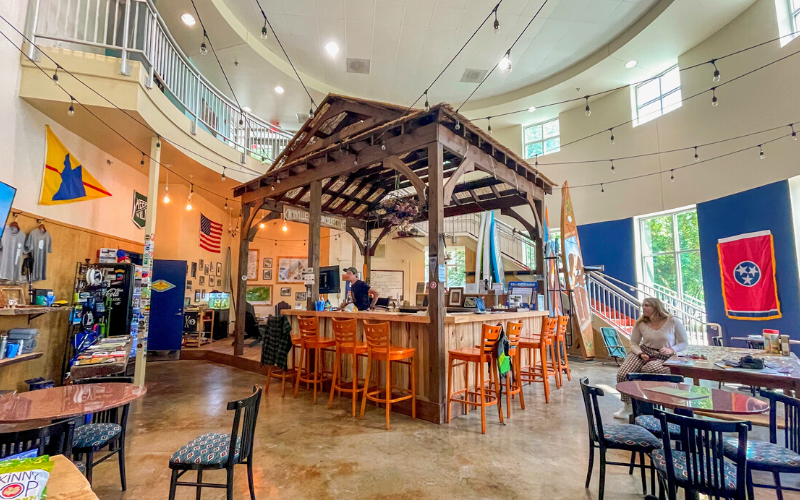 Being downtown and a launchpad for outdoor adventuring, Knoxville Adventure Collective truly is the best of both worlds. (*pause for Hannah Montana dance party*) And according to Jon, it's only going to get better. "Knoxville is hitting its stride. What they've done with the Urban Wilderness and things like that leaves a lot of room for outdoor growth – theres just a lot going on."
And while we're absolutely satisfied with downtown paddle boarding, Jon sees more on the horizon: everything from personalized guided trips to backpacking in the Smokies.
So many of us move to Knoxville for her access to all things outdoors. Jon and the folks at Knoxville Adventure Collective can legitimately help you start experiencing and exploring it. And after a year like we've had (KAC opened deep in the heart of the pandemic – ow), a summer spent on bikes with pals, or in canoes with friends, or *fill in the outdoor adventure blank*, is just what the doctor ordered.
Or you can just rent a kayak for an hour as an excuse to hang out with Japhy. We get it. No judgement here.
Do you want to experience more of Knoxville's outdoor scene? Click here to start exploring everything from hikes to local quarries!