Written By: Caitlyn Tate
One thing we Knoxvillians sure love is local coffee. And though Knoxville is teeeechnically the second Five and Hoek location for owners Beth and Tyler Fivecoat (the original location is in Illinois), we have of course welcomed them as our own in true southern scruffy city fashion!
Does the word "pivot" give you flashbacks to 2020? 😂 We'll be kind and use the word "reroute" instead. SO the pandemic forced the Fivecoats to reroute (😉) their original business plan concept in Wheaton, Illinois. To accommodate safety concerns and health mandates, they converted their new and thriving shop to a walk-up window and it was a hit! So much so that she continues to operate today. However, they missed the community aspect – having people gather together over coffee. This desire for community led them to their next adventure…. Searching for a new city to open a brand new spot to match the dreams they originally envisioned!
Thankfully, the mountains, warm temps and plethora of outdoor activities to choose from here in cute ole Knox enticed the Fivecoats. (I mean, we get it 😉) They officially decided to move to Knoxville and make this Scruffy City their brand newww home – a home to raise their kids and use their creativity and expand their passion project (Hint: that passion project is Five and Hoek!).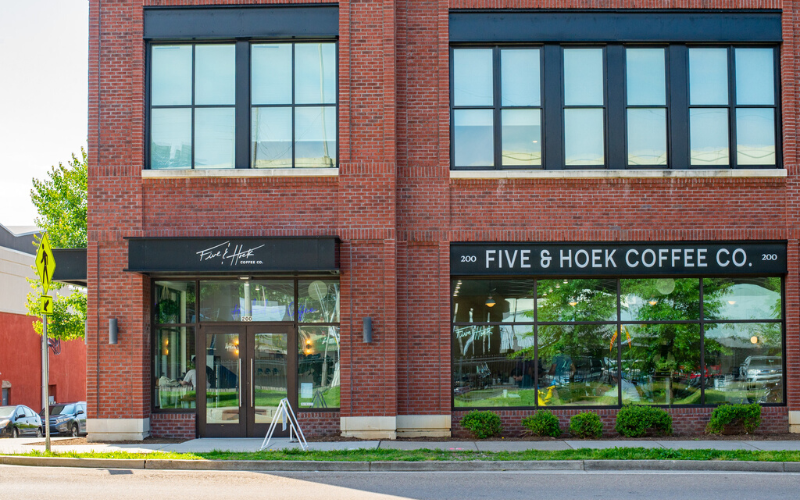 Speaking of Five and Hoek, how do you even pronounce this super aesthetic coffee shop's name? Are we thinking [hoke] as in rhyming with [joke]? Or maybe [hook] as in the loved-to-be-hated Captain? 
Turns outtttttt it's pronounced like that mustache-twirlin' scoundrel! Hoek is a combination of the first part of their last name (Fivecoat) combined with the friends whom they first started the shop with. Five is the street the original location was on – and the rest is history! (In their defense, the big ole "Hoeked on Coffee" sign that greets you as you enter could have probably been a clue… 😂)
While the original location has been a walk-up only spot since 2020, we in Knoxville get to enjoy the BEAUTIFUL walk-in-and-stay-awhile space. (And once you're ready to get up and go, she's also within walking distance to the Mill and Mine's entertainment and Public House's deliiiicious patio and Marble City Market's endless convenience!)
When you walk into Five and Hoek, you'll feel like family – inevitably greeted by the friendliest baristas or Beth and Tyler Fivecoat themselves. Definitely try one of the housemade caramels that make this little shop unique in your latte (salted beer caramel, anyone?!), the Knoxville chai blend, ORRR if black coffee is more your jam, you'll definitely be in good hands with quality beans roasted in-house to perfection 🤤
It's safe to say we're HOEKED on this cute little coffee shop 😉 Let us know youuur fave drink order at Five + Hoek!