SHAKIN' THINGS UP: 7 Must-Try Cocktail Spots in Knoxville
If you've hung out with us before on this lil corner of the internet, you know two things: 1.) We LOVE Knoxville. 2.) We HATE picking favorites. Here's another thing we love: a cool cocktail on a warm summer day. So just be aware that these are just some of our many favorite spots for a fun mixed bevvie in the Scruffy City 😂 If you too are on the continuous hunt for the perfect place to wet your whistle and raise a glass to good times, we are your peeeeople! Go put on your party pants and then come back and explore these must-try spots for cocktails in Knoxville, Tennessee. (IN NO PARTICULAR ORDER, have we mentioned it's hard to pick favorites? 😅)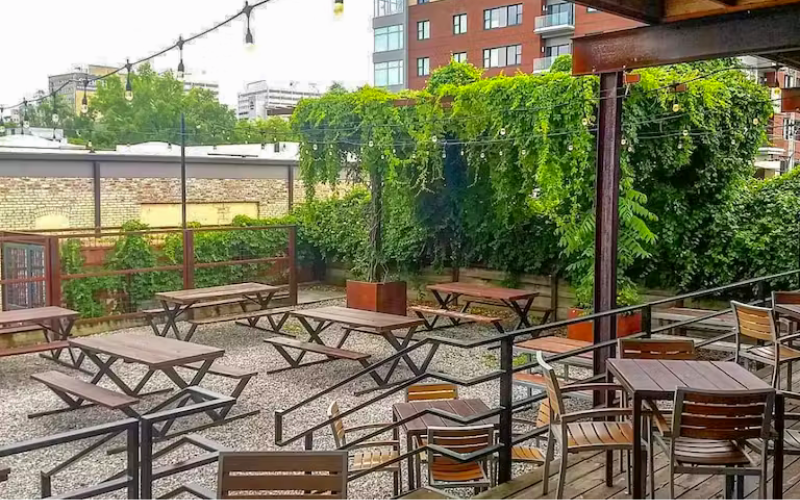 1.) Public House
We will never get over Public House. Are they here to impress you with bells and whistles? No. There website states, "We are a neighborhood bar with no TVs, no live music, and no smoking inside." We've never heard of trivia or comedy or fill-in-the-blank happening there. They will not care one iota that they made this list. AND YET. Their drinks are consistently delicious – experimental and yet palatable. They easily made our favorite patios list. Landing that coveted spot under the greenery leaves us blissful for days. And they serve bomb hot dogs. Y'all, we love hot dogs.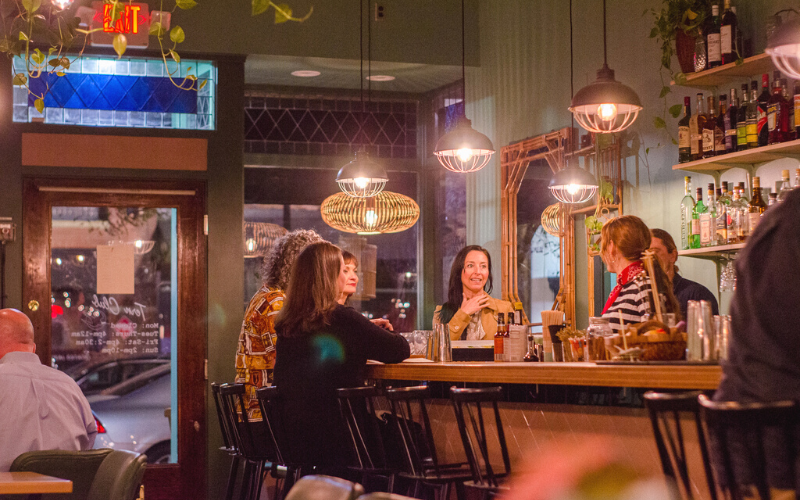 2.) Tern Club
On the quieter side of Gay Street lies an elevated tropical oasis: Tern Club. When we say every. single. detail of this spot has been intentionally curated… from receipts coming to you inside thematic books to glasses being carefully thrifted – everything has been carefully and lovingly chosen. But it's not just cute. The tropical cocktails – from the classic faves to ones they dreamed up all on their own – are almost dangerously delicious.
3.) Monkey's Bar
The newest bar on this list is our current casual ✨obsession.✨ Monkey's Bar is owned by, well, Monkey. Monkey is the sweetest bestest golden retriever/bar owner there ever was. His human, Elle, is also an absolute delight and has created a friendly, delicious cocktail bar – somehow being both un-pretentious and un-divey (a difficult feat to manage, as I'm sure we all know). We love their pop-culture-inspired drink names, their specials to go alongside any and every show at the Mill & Mine (they're next-door-neighbors), and their long and thoughtful mocktail menu. While we shouldn't be surprised, it turns out dogs do, in fact, make excellent bar owners!
4.) Brother Wolf
Speaking of dogs, their ancestors own the bar a couple blocks south. Brother Wolf has stormed the Knoxville cocktail scene with their lengthy Negroni menu (yes, they do in fact serve the famous "Negroni Sbagliato" from that momentarily viral sound 😂) and what many are calling the best espresso martini in Knoxville 👀 We're personally smitten by their festive pop-up bars. Brother Werewolf pops up during October, Miracle in the Old City takes up residence during the Christmas season, and for one magical moment each year they turn into "Jolene's" during Rhinestone Fest.
5.) Five Thirty Lounge
If you prefer to take your cocktails in the skies rather than on the rocks (we do), our fave place to do so is the Five Thirty Lounge. This spot is just classy… (so classy, in fact, that we chose to NOT say "elevated" which would have been the perfect rooftop pun). Take advantage of their Happy Hour specials and deeefinitely round up some friends to have the whole rooftop igloo experience when winter rolls back around 🤩 Want to rooftop hop? Check out four more rooftop bars in Knoxville right here!
6.) Fly by Night
SOUTH KNOXVILLE
Remember Tern Club from a couple spots up? Those drink & design MASTERMINDS just recently opened up another brilliant concept. While Tern Club is a mid-mod moment, Fly by Night seeeeps of the seventies. From the disco ball in the center to the porcelain cats in the corner to the wallpaper that can only be described at groovy, it is all, as they say, far out ✌️ The menu even fits the vibe, offering popular drinks of the decade like dirty martinis, rusty nails, and (my personal favorite) grasshoppers. Needless to say, we are smitten & will be flying (😉) over to the south side frequently.
7.) Peter Kern Library
Last but not least, we couldn't let a list like this slip away without a nod to Knoxville's only speakeasy. If you turn off Market Square and slip into the alley between The Oliver Hotel & Knox Brew Hub, you'll spot a red light. That's your cue, babes 👀 The Peter Kern Library is open and ready to sneak you in for an evening of literary-themed (and excellent, for the record) sips. PRO-TIP: There is a loose dress code (namely, no hats, guys!) so take this as a rare opportunity in the Scruffy City – when your friend texts, "Are we getting cute?" you can answer with a hearty, "Yes!" 😉 There is also a password to get in, but in an effort to respect the scared secrets of The Library, we won't just throw it out here on the world wide web. Shoot us a DM on Instagram and we'll tell ya how to find it 🤫
Hopefully this helps wet your whistle as we whip up another 7! 😉 In the meantime, where is YOUR favorite spot to grab a cocktail?? Let us know over on the 'gram & maybe it will make the next list!