What to Do If You Only Have One Day in Knoxville
Knoxville, if you ask us, is the cutest lil city in the south and deserves all the days. We know you would definitely want to stay in Knoxville forever and ever amen. However, if other clearly less cool people are passing through for the day, your main goal is to absolutely *wow* them and make them regret staying for such a short time. Diabolical? Maybe. Worth it in the end because they'll move to Knoxville and you can hang out with them always? Definitely 😉
Here is (what we would consider) the perfect itinerary for anyone who has one solitary day in Knoxville, Tennessee. Without further ado,
WHAT TO DO WITH ONE DAY IN KNOXVILLE:
A KNOXVILLE MORNING:
If this one day in Knoxville is a Saturday, you must start your morning at the Market Square Farmer's Market. The market is vast and vibrant and involves local farmers and makers and buskers and brunchers. It is, quite frankly, glorious. Before strolling, pick up a coffee from Mahalo Coffee Roasters. Mahalo is owned by the youngest person to ever win the Daytona 500 (what's more Knoxville than that??) but don't expect NASCAR memorabilia on the walls. These vibes are Hawaii all day…
If it's not a Saturday, just grab your coffee and take a walk around downtown anyway! Wind your way through Market Square, Gay St., and Main Street for a taste of the current local vibe with a dash of history.
In the off-chance that you come to Knoxville on a weekend without a Farmer's Market (it's rare, but it happens), there's an excellent chance you're in for a treat. No Farmer's Market usually means there's a major festival happening instead! (Want to know what events are happening on your one day in Knoxville? Click here!)

A KNOXVILLE MID-MORNING:
After your market experience, it is obviously time to brunch. You'll be back downtown later – for now, we suggest heading over the river to South Knoxville. Whether you drive or scooter, make sure to appreciate the view of downtown from the bridge. (*insert all the heart eyes*) Snag brunch at Simpl on Sevier Ave and soak up the chill and laidback vibes SoKno is [so]known for.
After brunch, it's time to hike. You didn't think we'd let you be in East Tennessee for a day without spending some time in the great outdoors, did you? Head over to Mead's Quarry inside Ijams Nature Center. You can hike the loop pretty easily (ie. as long as you're in relatively comfy shoes, there's no need to change clothes!) and enjoy some great overlooks of the quarry while you're at it. After the quarry loop, sneak over to see the Keyhole as well or dip your toes in the quarry itself.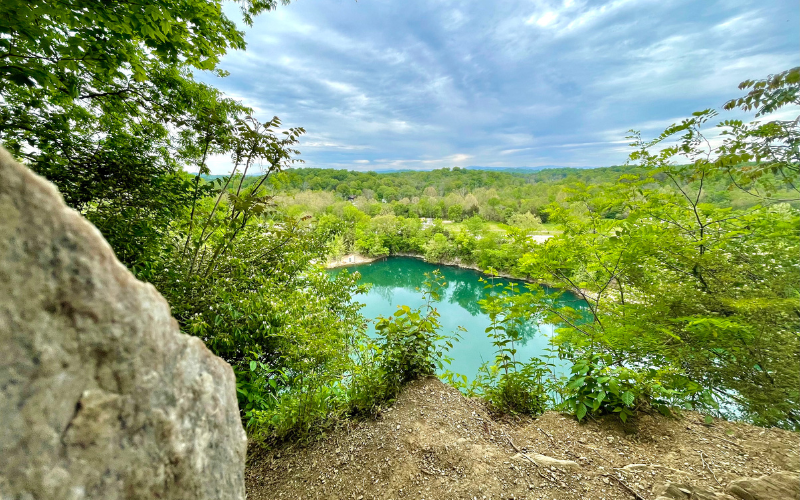 A KNOXVILLE AFTERNOON:
You're probably well into the afternoon at this point. From here, we have two suggestions for you.
OPTION #1:
Continue the great outdoors theme by renting a kayak or paddleboard at Ijams Nature Center or Knoxville Adventure Collective. If you rent it from Ijams, you'll be limited to the quarry. (That's not a bad thing – she's gorgeous.) However, if you pop over to Knoxville Adventure Collective, you have the entire Tennessee River at your disposal – including great views of downtown and Neyland Stadium. (They also rent out e-bikes which are an amazing way to get around the city if you want to make the most of your one day.) Either way, East Tennessee life is about to knock your socks off. It's your classic knox-socks situation.
OPTION #2:
Escape the heat and head inside to enjoy a museum! There are plenty of historic homes to tour, the East Tennessee History Museum, or the ✨freeeee✨ Knoxville Art Museum. They have plenty of art to peruse and even some interactive elements for kiddos (or kids at heart, no judgement here). There's also a great view of downtown and the Sunsphere from their second floor balcony. Speaking of which – take this opportunity to cross the street and head up to the viewing deck of the Sunsphere. Not to be dramatic but she's an absolute icon.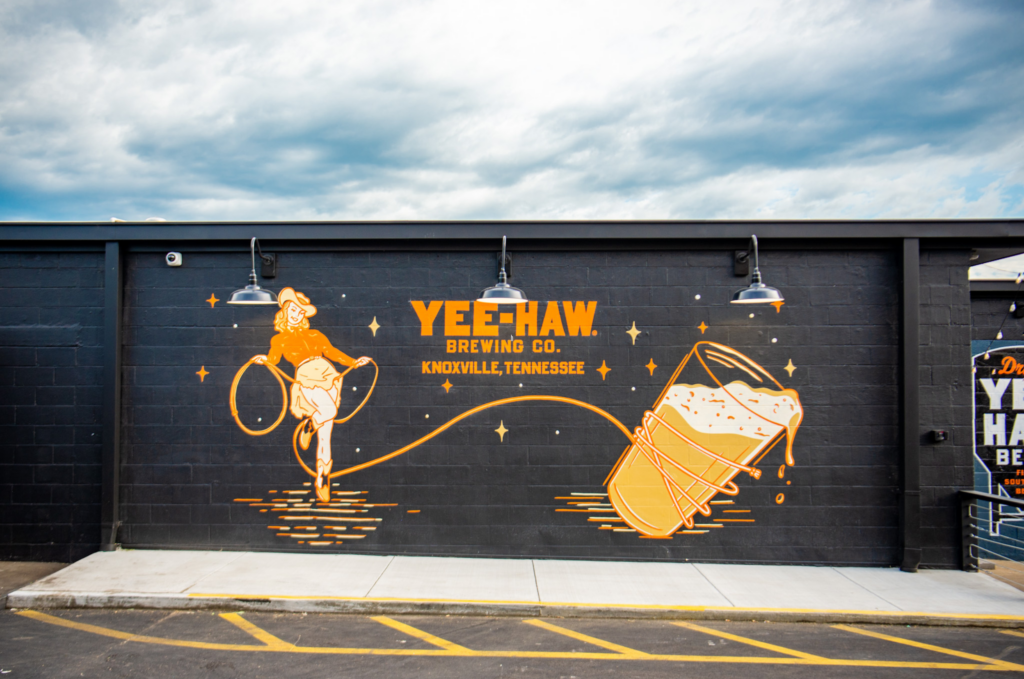 A KNOXVILLE EARLY EVENING:
It's time to head to North Knoxville and hit up the brewery scene! We're not kidding – this part of town isn't technically named the "Brewery District" but with six breweries within a half mile of each other, you tell us… 😏 When it comes to this area, we are usually paralyzed by indecision, so we'll leave the decision-making up to you. Schulz Brau is a German brewery and has an incredible outdoor beirgarten. (They also have a great selection of non-alcoholic options if the brewery scene isn't really your style.) Xul Beer Co. is already making waves in the greater beer community. Their vibes are immaculate and their fruited sours… well, we're drooling just writing about them. Finally, Crafty Bastard Brewery is the quirky, down-to-earth brewery of our dreams. They are the quintessential "Scruffy City" brewery – highly experimental, dog-friendly, and dang welcoming. You'll leave there with a friend – even if it does have four legs 😉  Next Level and Barrelhouse by Gypsy Circus are also gems and the Yee-Haw Brewing is the literal best summer vibe. Good luck choosing, pal 😂
PRO-TIP: If you're super into beer, a great place to get a handle on the local scene is Knox Brew Hub. Start there and your beer-lovin' self will be fully prepared to make the most of the day.
A KNOXVILLE EVENING:
It's time to eat! At this point, we suggest heading back downtown for endless delicious options. Babalu is smack dab on Gay Street and a Girl's Night Out's dream. Stock & Barrel on Market Square is widely regarded as one of the top two best burgers in the city. Kefi in the Old City has flaming cheese, the most delicious shrimp dish we've ever had, and cocktail flights. Case closed.
After dinner, cap it off with a drink. If you're at JC Holdway, head straight to Knoxville's only speak-easy: Peter Kern Library. (We're not going to put their secrets on the Internet for everyone to see, but feel free to DM us for details on how to find it and get in easy-peasy.) If you're at Stock & Barrel, pop over to the Five Thirty Lounge. This rooftop bar is classy and delicious and open rain or shine. Color us obsessed. If you're at Kefi, pop over to Brother Wolf for a bomb espresso martini or Pour Taproom where you can be the bartender and choose your own adventure.
A KNOXVILLE LATE NIGHT:
Oh, we see you, party people 😉 Not quite ready to let the night end? Preservation Pub in Market Square is a great time with live music, eclectic dive bar vibes, and a rooftop patio to boot. (There's a $5 cover to get in – but in their defense, it gets you into two other neighboring bars as well.) Knox Box Karaoke on Gay Street is truly party central as people belt their hearts out to every song in not-so-perfect-but-definitely-passionate unison. If you're looking for Knoxville's clubbing scene, head over to the Old City for plenty of options. Finally, if you're exhausted, you're our people 😂 Head home/to your hotel and enjoy watching a movie in your PJs. It's been a long day, pal. You earned it.
---
We hope this lil guide helps you have a wonderful (albeit quick) time in the Scruffy City! Now that you know how great it is, you can come back for a more substantial amount of time and really explore 😉 Or do you just want to move here after all? We can help you with that as well! Either way, we're so glad you stumbled onto our cute lil Scruffy City. We hope you have an absolutely wonderful time.
Need more suggestions? Shoot us a DM on Instagram! We're more than happy to help 😊