7 Things to Do in Knoxville at Christmas
Hi hi, we're glad you're here! But first, CLICK HERE FOR THE UPDATED 2023 LIST OF THINGS TO DO THIS CHRISTMAS IN KNOXVILLE 🎄 Now back to our regularly scheduled Christmas in Knoxville programming… 😉
Christmas is a magical time of year when calories don't count and strangers are welcomed into our chimneys just as long as they leave presents. And while we're convinced Christmas would be magical anywhere, we believe it's particularly wonderful in Knoxville, TN 🤩
Here are some of our absolute favorite things to do in Knoxville throughout Christmas!
1.
 

The Lights!

The Holiday Festival of Lights sets up shop every year at The Cove at Concord Park out in west Knoxville and it is absolutely delightful. The show is an illuminated three-quarter-mile greenway trail you can walk through with coordinating music. Oh and SOMETIMES SANTA COMES. If you're into that. Which we are.

Since you're already out west, pop over Honeybee for hot chocolate and then to Founders Park in Farragut for another walkable display of Christmas lights and holiday joy. Then head down the street to warm up around a fire pit at 35 North!

Don't want to leave the car? We get it. The weather outside is frightful and all that. Grab that cocoa to-go-co and drive by this house in West Hills or this house in Fountain City.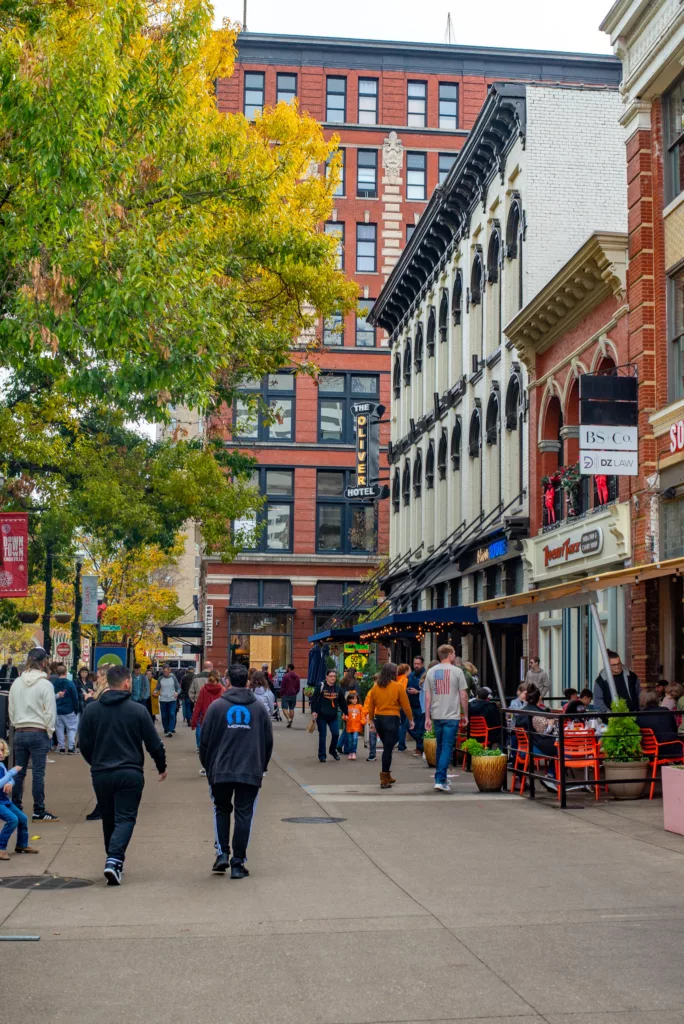 2.) The Markets!
There's no denying we'll all end up spending too much money this month – so why not make our inevitable shopping trips festive and local? Knoxville has a ton of holiday markets where you can shop small, chat with the makers themselves, and come away with unique gifts for your loved ones.
Some of our favorite markets to hit up each year are the Market Square Holiday Market every Saturday leading up to Christmas, the Old Sevier Holiday Market in South Knoxville, and the Retropolitan Craft Fair (this one has passed, but keep her in mind for next year!).
3.) The Theat-ah!
If there's one thing we love about Christmas (although there are actually a zillion things we love about Christmas), it's all the excuses to feel fancy. Enter: The Theater.
Catch a classic in December like "The Unusual Tale of Mary and Joseph's Baby" put on by River & Rail Theatre Company or "A Christmas Carol" put on annually at Clarence Brown Theatre. Finally, it may go without saying but if you can spend an evening at the Tennessee Theatre, omg do it.
Whatever you choose, we think you're very classy for supporting the arts and by golly, you deserve a drink.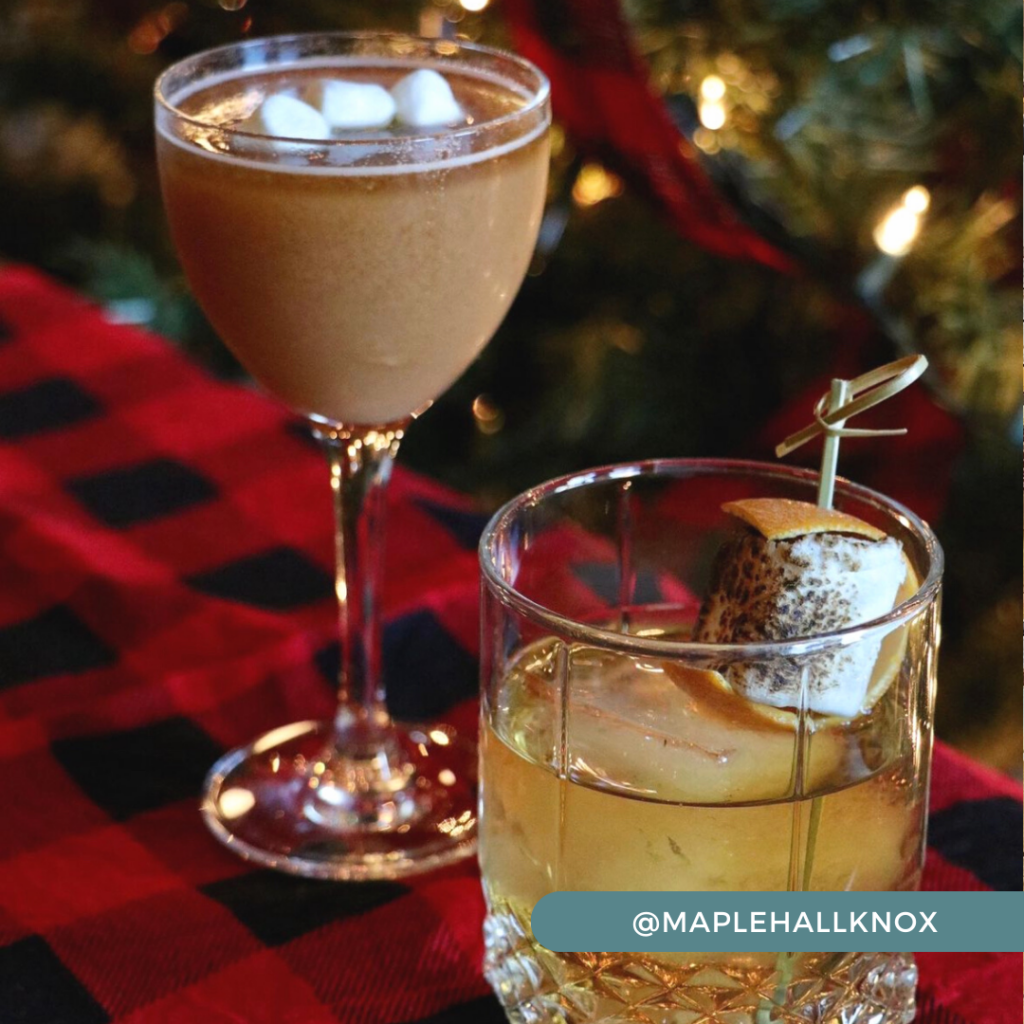 4.) The Christmas Cocktails!
Which brings us to our next point! A few bars in Knoxville understood the assignment and have decked their halls with all kinds of Christmas cheer.
The Christmas pop-up bar "Miracle on Gay Street" has returned this year with a twist. She's back as "Miracle in the Old City", set up in Brother Wolf with all the nostalgic, tacky, over-the-top holiday decor of your dreams. (The menu of exclusively seasonal cocktails ain't bad either!)
Around the corner, down the street, and up a few floors is the Five Thirty Lounge rooftop bar. This classy bar did not hold back this year and pulled out all the stops with igloos, a fire pit, seasonal cocktails, and Christmas decor complete with fake snow.
Over on the north side, Schulz Brau Brewing Co. is bringing the holiday cheer in their charming German biergarten with their own igloo and fake snow situation. Germany is somehow a whole Christmas vibe on its own – so add in our favorite lil scruffy city and some delicious dunkel? We're cold sold.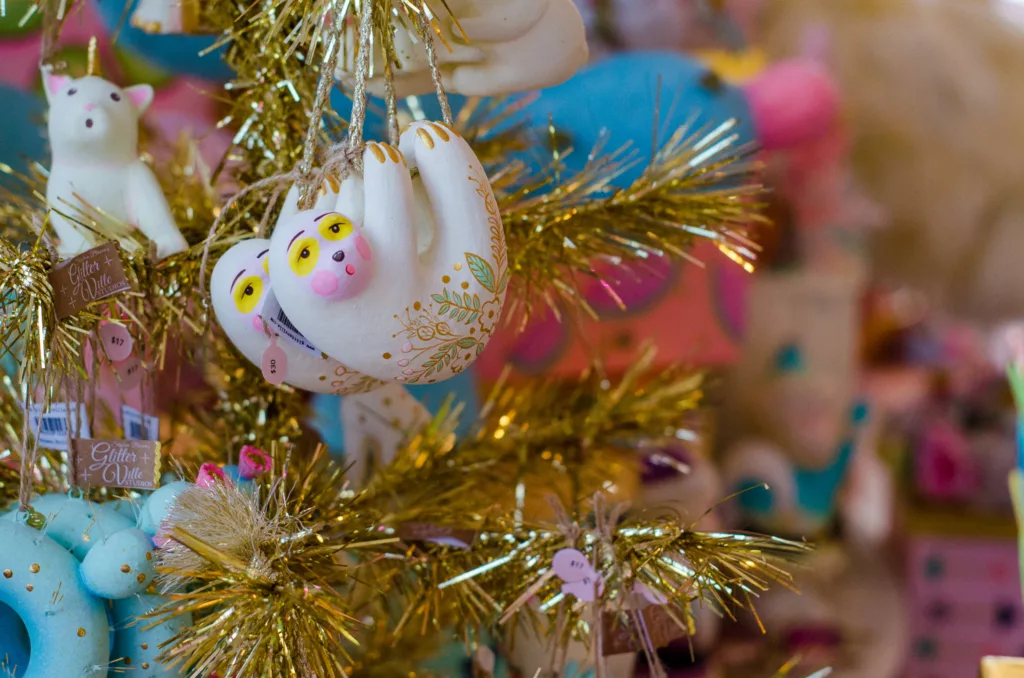 5.) The Shopping!
If you can't make it to a market this year, you're not out of luck. While markets are obviously adorable, plenty of local stores are holding their own when it comes to Christmas cheer and local makers. Step inside these spots and you might as well be whisked away to the gosh darn North Pole.
Glitterville is an actual Christmas dream. Just trust us on this one. Step inside to a magical fairy land of holiday wonder and whimsical ornaments galore.
Jack's has two locations (one on the 100 Block and one on N. Central) and they both boast cool Christmas vibes. For extra cheer, order a Christmas coffee from the bar before browsing!
Finally, Bradley's out in Cedar Bluff is known for going all out for holiday cheer. Come for the multiple Christmas trees, stay for the Knoxville Chocolates 😍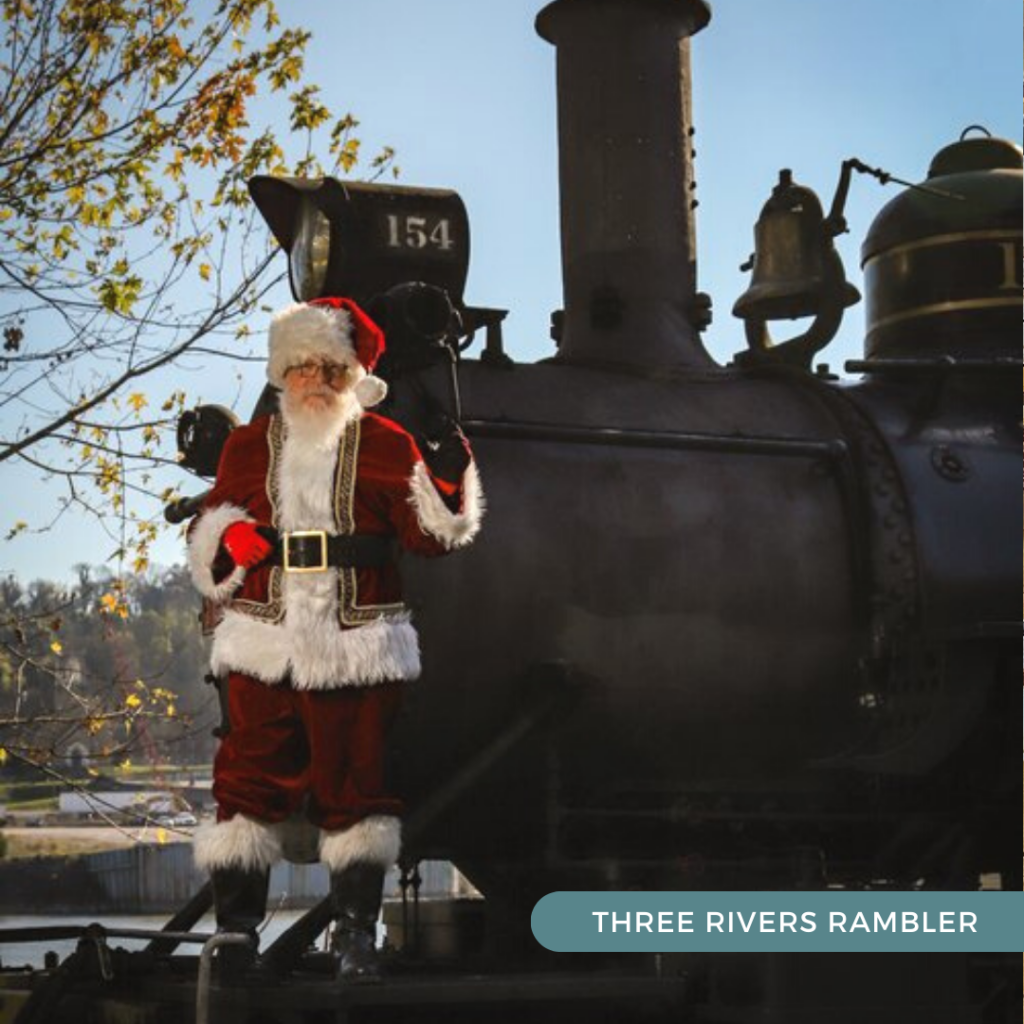 6.) The Train Rides!
Full Disclosure: We haven't done this one before! But goshdarnit if this doesn't seem like the perfect December evening🥲 The Christmas Lantern Express is a two hour festive train ride on the Three Rivers Rambler. Their website says to enjoy "festive decorations, holiday treats, storytime with celebrity readers and a special visit with Santa." We give that description a resounding jingle "BELL YES."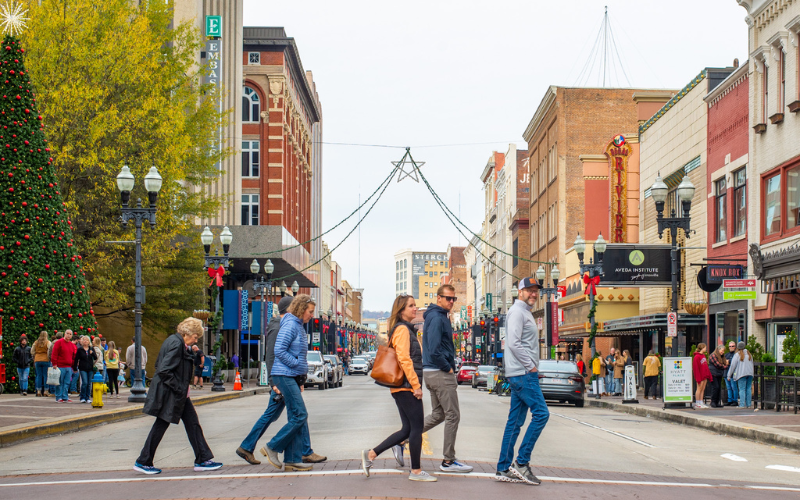 7.) The Downtown!
If you want your life to look more like a Hallmark movie, just head to Downtown Knoxville in December. Throughout Christmas, the middle of Market Square transforms into a colorful winter wonderland, complete with an ice skating rink. $12 gets you unlimited time on the ice ($9 for kiddos) and we think that's a small price to pay for utter Christmas magic.
Afterward, keep an eye out for the "Peppermint Trail" as you stroll the city. Those little sidewalk peppermints make it simple to figure out who is serving up Christmas treats. While there are plenty of worthy pepperminty candidates, we suggest hot chocolate from Cruze Farm. (They add whipped cream AND marshmallows, so… you get it.) With cocoa in hand, you can walk by the Christmas tree on Gay St., through the beautiful lit up trees in Krutch Park, and all the way down to the candycane striped streetlights of the Old City.
However you celebrate, we hope your holiday season is full of hope, joy, and wonder! We think these things may help make that happen. If you have any other questions about Christmas in Knoxville, let us know! Merry Christmas!
CLICK HERE FOR THE UPDATED 2023 LIST OF THINGS TO DO THIS CHRISTMAS IN KNOXVILLE 🎄