9 Things to Do in Knoxville This Christmas
The holidays are a magical time of year. Calories don't count. Strangers are welcomed into our chimneys just as long as they leave presents. Drinks are garnished with gingerbread cookies & peppermints instead of orange peels & rosemary. And while we're convinced Christmas would be magical anywhere, we believe it's particularly wonderful in cute & scruffy Knoxville, TN.
We are truly obsessed with this time of year, so you can trust us with this list (we've checked it twice!). Here are 7 things to do throughout the holidays in Knoxville!
1.
 

The Lights!

We went to the Christmas Tree Lighting this year for the first time ever and our lasting thought was WHAT TOOK US SO LONG?! We're talking lasers, fireworks, Christmas carols, the works. It happens the Friday after Thanksgiving every year so make sure it's on your list for next year! Thankfully, there are still plenty of lights to enjoy around the Scruffy City.

The Holiday Festival of Lights sets up shop every year at The Cove at Concord Park out in West Knoxville and it is absolutely delightful. The show is an illuminated three-quarter-mile greenway trail you can walk through with coordinating music. Oh and SOMETIMES SANTA COMES. If you're into that. Which we are. It's also freeeee but if you do want to spread a little love, donations can be made to the Love Kitchen.

Since you're already out west, pop over Honeybee for hot chocolate and then to Founders Park in Farragut for another walkable display of Christmas lights and holiday joy.

Don't want to leave the car? We get it. The weather outside is frightful and all that. Grab that cocoa to-go-co and drive by this house in West Hills or this house in Fountain City. (Definitely grab that cocoa in case you're not the only cheery elf with this festive plan. We've heard traffic can sometimes be slooow.)
2.) The Markets!
Shopping is an age-old holiday tradition (or maybe we're just suckers for capitalism but still…) which immediately escalates the Christmas spirit. However, nothing dampens those spirits quite like road rage in parking lots (we're lookin' at you, Turkey Creek & West Town Mall). THANKFULLY, Knoxville has a ton of holiday markets where you can shop small, chat with the makers themselves, come away with unique gifts for your loved ones, and essentially hit up many a store with one solitary parking job. HAPPY HOLIDAYS, INDEED.
Some of our favorite markets to hit up each year are the Market Square Holiday Market every Saturday leading up to Christmas, Christkindlsmarkt at Schulz Brau, and the Holiday Barn Sale at RiverView Family Farm. This year is also the debut of the Merry Makers Market & Christmas Carnival with West Fifth Studios and frankly, we are GIDDILY excited about it.
3.) The Theat-ah!
Please tell me you read that in a fancy accent, because if there's one thing we love about Christmas (jk there are clearly one zillion things we love about Christmas), it's all the excuses to feel fancy. Enter: The Theater.
Catch a classic in December like "A Christmas Carol" put on annually at Clarence Brown Theatre. Other theaters with holiday options are River & Rail Theatre Co in the Old City and Theatre Knoxville Downtown. Theatre Knoxville is currently showing One Christmas at Evergreen Mall and Y'ALL. At one point they mention my hometown Midland, MI by NAME, are you KIDDING ME?! You will definitely find that less exciting than I did (unless you too are from Midland, MI in which case – let's be best friends?).
Finally, it may go without saying but if you can spend an evening at the Tennessee Theatre, omg do it. Whether it's a Broadway Show or the freaking Nutcracker Ballet, you are clearly incredibly classy (bravo for supporting the arts!) and by golly, you deserve a drink.
4.) The Christmas Cocktails!
WHICH BRINGS US TO OUR NEXT POINT. A few bars in Knoxville understood the assignment and have decked their halls with all kinds of Christmas cheer and seasonal sips.
The Christmas pop-up bar "Miracle in the Old City" is back with all the nostalgic, tacky, over-the-top holiday decor of your dreams – and a menu of thematic drinks only. They understood the assignment. Head to Brother Wolf to experience all the festive goodness!
Around the corner, down the street, and up a few floors is the Five Thirty Lounge rooftop bar. This classy bar does not hold back when it comes to Christmas. They pulled out all the stops with igloos, a fire pit, seasonal cocktails, and Christmas decor complete with fake snow. FAKE. SNOW.
Finally, over on the north side, Schulz Brau Brewing Co. is bringing the holiday cheer in their charming German biergarten with their Christmas market every single weekend leading up to Christmas. Depending on when you stop by, there could be Santa, fake snow, live music, and definitely igloos & local vendors! Germany is somehow a whole Christmas vibe on its own – so add in our favorite lil scruffy city and some delicious dunkel? We're cold sold.
5.) The Shopping!
If you can't make it to a market this year, you're not out of luck. While markets are obviously adorable, plenty of local stores are holding their own when it comes to Christmas cheer and local makers. Step inside these spots and you might as well be whisked away to the gosh darn North Pole.
Glitterville is an actual Christmas dream. Just trust us on this one. Step inside to a magical fairy land of holiday wonder and whimsical ornaments galore. Jack's has two locations (one on the 100 Block and one on N. Central) and they both boast cool Christmas vibes. For extra cheer, order a Christmas coffee from the bar before browsing! Finally, Bradley's out in Cedar Bluff is known for going all out for holiday cheer. Come for the multiple Christmas trees, stay for the Knoxville Chocolates 😍
6.) The Train Rides!
Full Disclosure: We haven't done this one before. (*gasp!*) But goshdarnit if this doesn't seem like the perfect December evening🥲 The Christmas Lantern Express is a two hour festive train ride on the Three Rivers Rambler. Their website says to enjoy "festive decorations, holiday treats, storytime with celebrity readers and a special visit with Santa." We give that description a resounding jingle "BELL YES."
7.) The Carols!
No youuuu cried when, at the tender age of eight years old, you found out Nat King Cole wasn't alive and in fact had never been alive at the same time as you. What can I say, Christmas songs hit different, y'all 😂 There are countless festive Christmas extravaganzas to choose from, but here's some festive live music at the top of our list!
Dave Barnes is back at the Bijou Theatre this year for "A Very Dave Barnes Christmas." He is both witty and musical so you're basically getting two shows in one. You can thank us later 😉 The Trans-Siberian Orchestra is alsooo stopping through Knoxville if you enjoy winter wonderlands and face melting 🤘 Those of you enjoying our fancy options will be positively tickled to know the Knoxville Symphony Orchestra is having a holiday concert at the Civic Auditorium. And if you want a quieter, more folky vibe the Tennessee Theatre is hosting "Andrew Peterson Presents: Behold the Lamb of God" with a whole lineup of Nashville songwriters and session musicians.
Finally, you should definitely go Christmas caroling. But if knocking on strangers' doors makes your heart beat faster than Santa on a sugar high after all those cookies on Christmas Eve, the folks at Make Music Knox have you covered. They're putting on their second ever "Carol Cart" event this year! You can bring an instrument or just sing along in this caroling event/sidewalk parade spreading Christmas cheer throughout Downtown Knoxville. SO STINKIN' CUTE.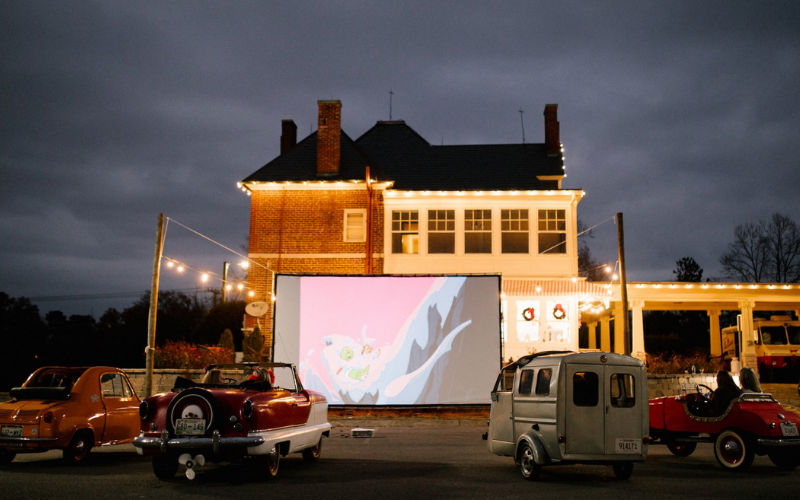 8.) The Theat-ah but Cheap-ah
We've already spent a questionable amount of hours consuming the Hallmark Christmas Channel. No shame in our cheesy holiday movie game. BUT if you want to elevate this tradition, plenty of local Knoxville spots make it easy for you!
Cruze Farm's Asbury location periodically turns their parking lot into a drive-in movie theatre throughout December. Order a pizza from their Pizza Barn to enjoy from the front seat and then tune in to a nostalgic night of cinema! SouthSide Garage is hosting movie nights every Thursday at 7pm on their big screen. Snag a warm drink and some free popcorn and settle in for an festive evening. Finallyyyyy, if you don't want to splurge on a Broadway Show or the Nutcracker Ballet but you doooo want a holi-date at the iconic Tennessee Theatre, you can enjoy a classic Christmas movie on their big screen for just ten dollars. As someone who plans on spending every cent she has on presents for her perfect lil nephew, you will see me there 😂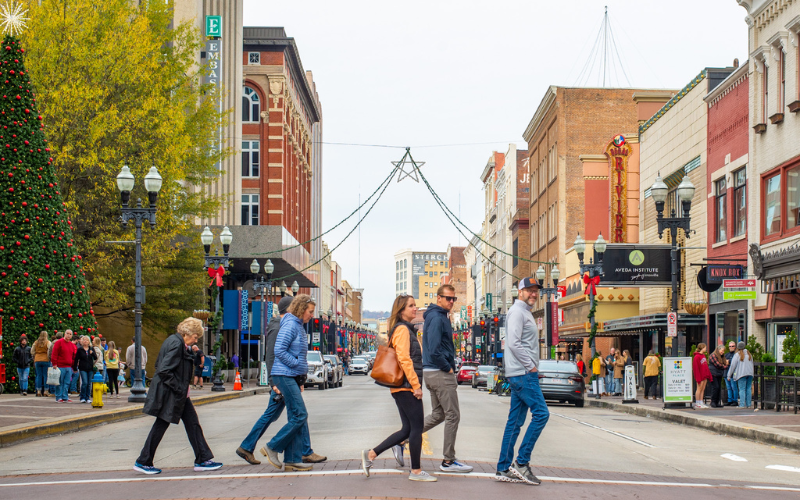 9.) The Downtown!
If you want your life to look more like the Hallmark movies you literally can't stop watching (just us?😬), head to Downtown Knoxville in December. Throughout Christmas, the middle of Market Square transforms into a colorful winter wonderland complete with an ice skating rink. $12 gets you unlimited time on the ice ($9 for kiddos) and we think that's a small price to pay for utter Christmas magic.
Afterward, keep an eye out for the "Peppermint Trail" as you stroll the city. Those little sidewalk peppermints make it easy to figure out who is serving up Christmas treats. While there are plenty of worthy pepperminty candidates, we suggest hot chocolate from Cruze Farm. (They add whipped cream AND marshmallows, so… you get it.) With cocoa in hand, you can walk by the Christmas tree on Gay St., through the beautiful lit up trees in Krutch Park, and all the way down to the candy-cane striped streetlights of the Old City.
However you celebrate, we hope your holiday season is full of hope, joy, and wonder! We think these things may help make that happen. If you have any other questions about Christmas in Knoxville, let us know. Merry Christmas, Knoxville!